Introduction
Strikingly is a website builder that lets you create a website in minutes. With Strikingly, you can create a beautiful website without any prior experience or design knowledge.
Strikingly also offers a wide range of features, including the ability to add custom fonts, images, and videos, as well as the ability to create blog posts and sell products online. In addition, Strikingly makes it easy to share your website with others, with just a few clicks.
Whether you're looking to create a personal website or a professional one, Strikingly has everything you need to get started.
If you are a small business owner that can't afford a web development company or don't have time to wait months for a custom design, strikingly is the solution for you. You can easily create a single-page website in no time.
What is Strikingly and who is it best for?
Strikingly is a website builder that is designed for people who want to create simple, stylish websites. Strikingly is ideal for individuals or businesses that need a website but don't have the time or inclination to design one from scratch.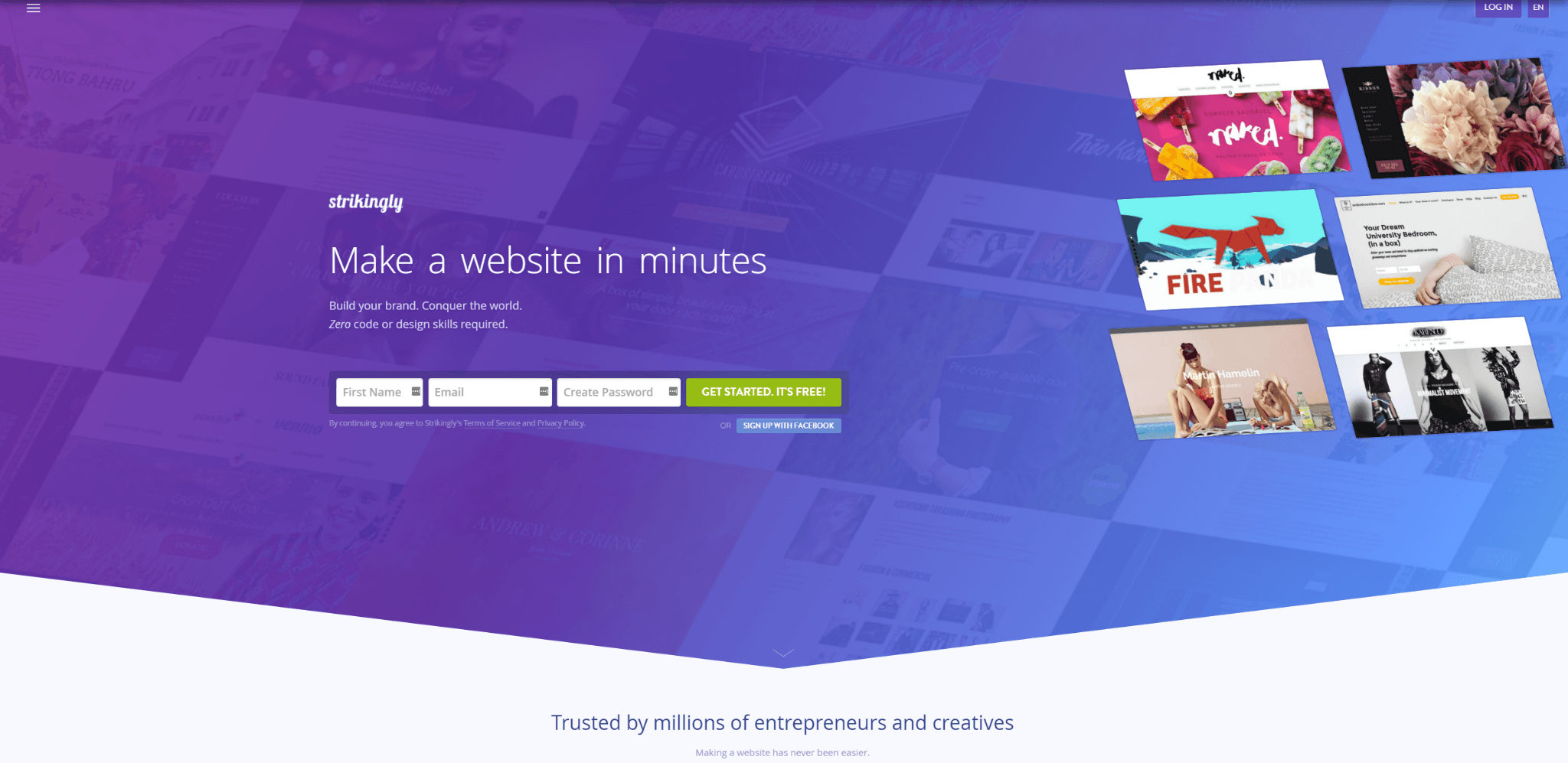 Strikingly offers a range of ready-made templates and easy-to-use tools that make it easy to create a professional-looking website in no time.
You can also use Strikingly to create a blog, an online store, or a portfolio site. Strikingly is free to use, and you can upgrade to a paid plan if you need more features or storage.
Strikingly Features
One of the things that make Strikingly stand out is its wide range of features. Here are some of the key ones that will help you get your website up and running in no time:
– No coding skills or design experience is required
– Professional-looking templates that are stylish and modern
– Easy to use interface that is fast and simple to navigate
– Free and paid plans are available, with a variety of features included
– Mobile optimized websites that look great on any device

Strikingly Pricing
Strikingly has a free and a paid plan available. The free plan includes a domain name, website hosting, and basic features, while the paid plan includes all of the features of the free plan plus additional features like custom domains, eCommerce support, and more.
The best part about strikingly is you can create unlimited free sites with the software. You can truly try anything and everything and upgrade to paid when you see fit.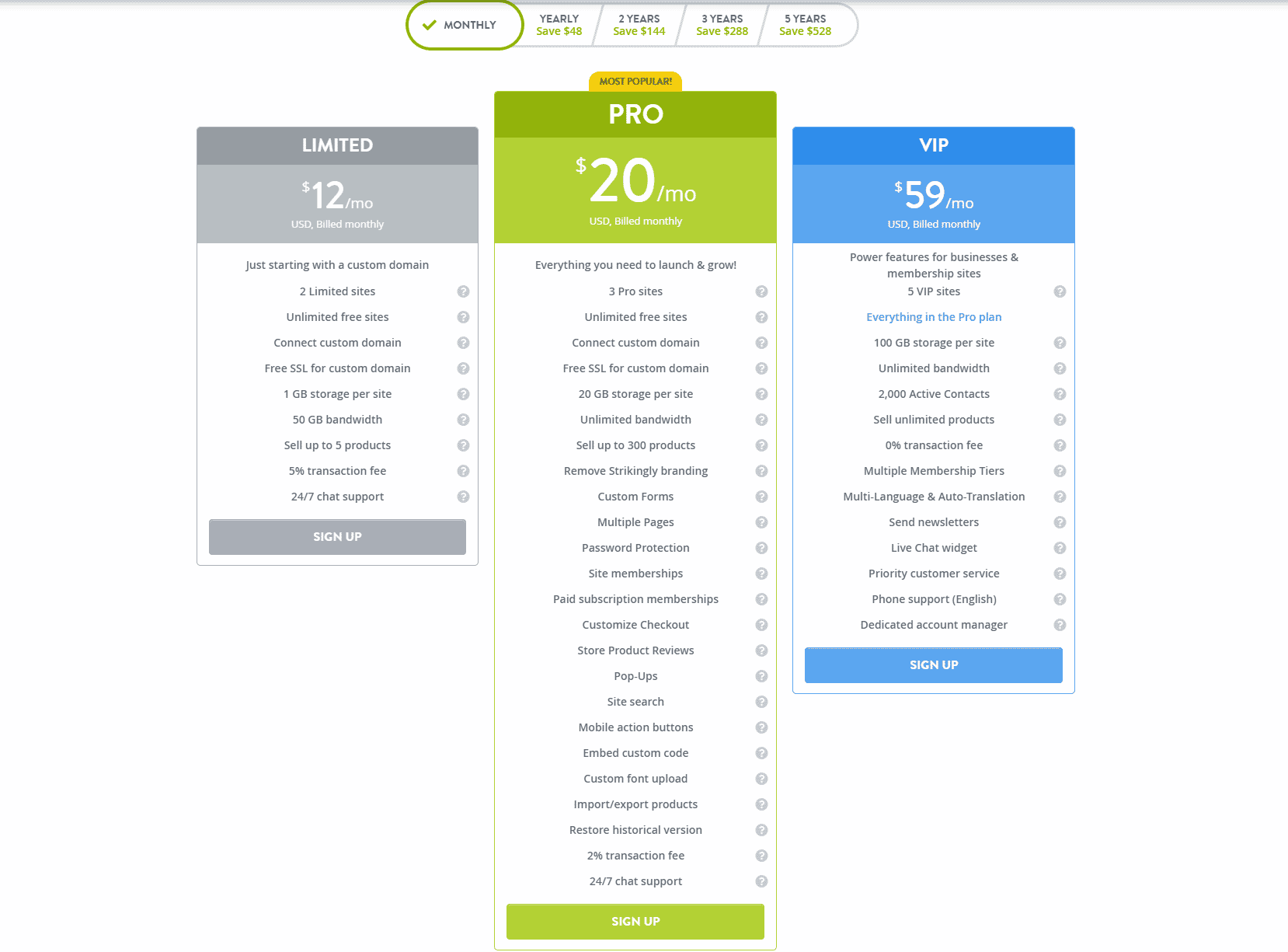 And even when you upgrade to a paid plan you have a 14-day trial to try out all the paid features. If you don't need them you can go back to the free plan.
The best features Strikingly have to offer
One of the best things about Strikingly is how easy it is to use. You don't need any tech skills at all to work with this website builder. If you can send an email you can create a website.
The drag and drop interface makes it simple to add content and customize your website, and the wide range of templates ensures that you can find a design that suits your needs.
Buy Now & Pay Later
If your business is eCommerce Strikingly has a cool feature built-in so you can charge your customers over time.
You can enable Afterpay and Klarna on your website so your customers can make payments over time.
The best part is that you will get your full payment upfront while Afterpay and Klarna will take care of the rest.
Having a payment plan option on your website will boost conversions and you can potentially charge more. Strikingly let
Send Cart Abandonment Emails!
Strikingly lets you send abandonment emails with their platform. This is great.
With other website builders, you would have to buy another piece of software to achieve this or buy an expensive app from a third-party provider.
Strikingly has this feature baked in ready to go for your business. Any potential customer that has added items to their cart and didn't go through with the purchase can send them an email.
This is a powerful way to increase conversions and keep customers coming back to your site to make a purchase.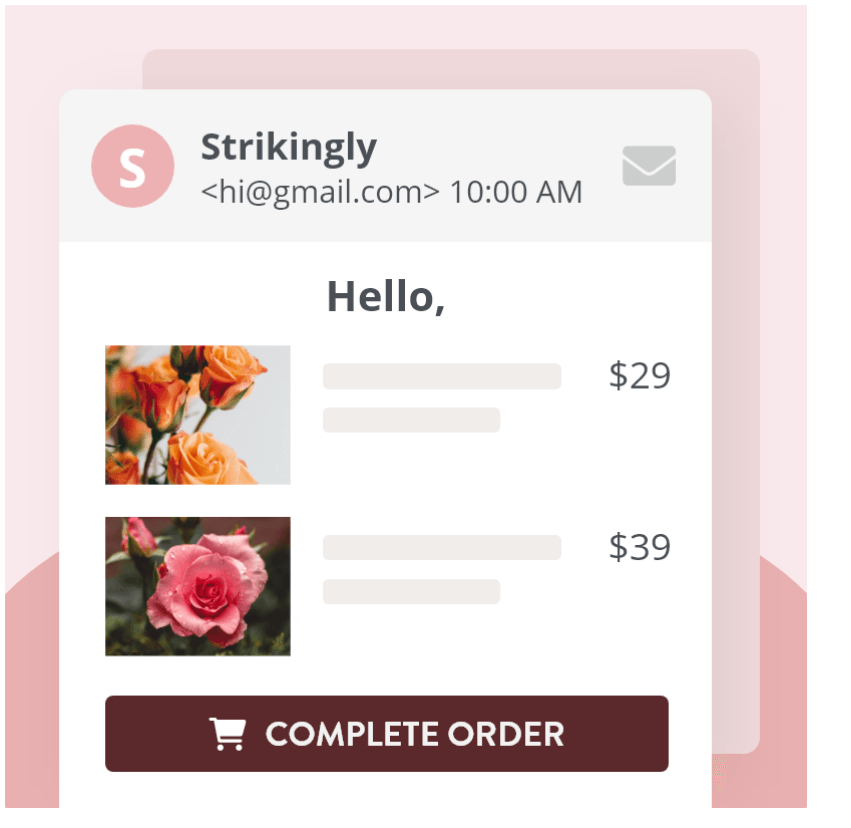 Strikingly Bookings
We love this feature because if you guessed it this will be replacing another tool that a small business owner would have to buy and learn.
With Strikingly Bookings you can manage all your appointments and manage them easily in the calendar.
This is great because as a small business owner everything is in one place and you don't have to jump from site to site or app to app.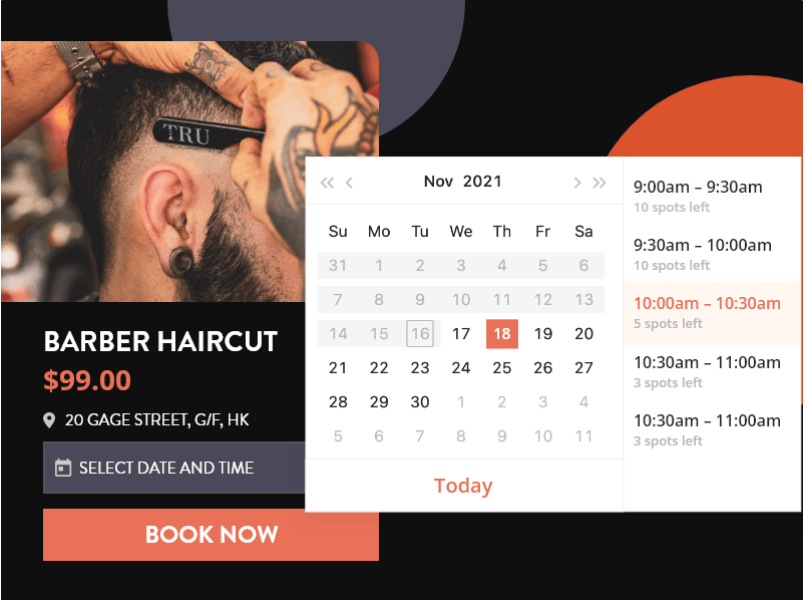 Image Library
Strikingly has its own built-in image library with royalty-free images you can use for your website. This is an amazing feature for anyone that is looking for new pictures to add to their website.
This built-in feature will save you time and money because you have 1,000 pictures right there at the click of a button.
You can type in the type of image you want or you can look for pictures by category. It is really easy to use.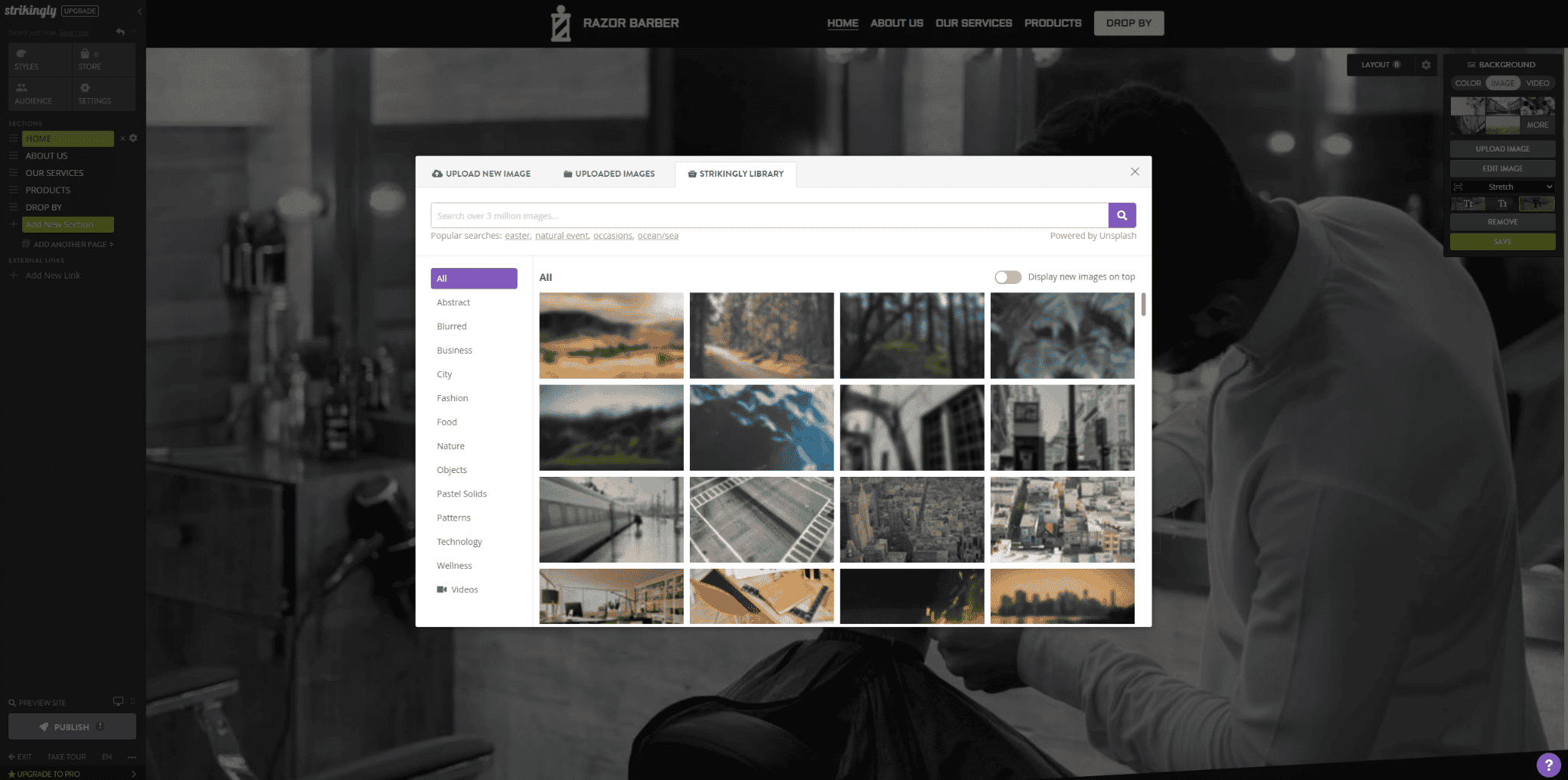 Beautiful Website Templates
One of the great things about Strikingly is the wide range of templates that are available. You can find a design that suits your needs, and you can easily customize the layout and add your branding colors to make the website look and feel like your brand.
Strikingly has 11 categories of templates to choose from:
Business
Store
Startup
Portfolio
Organization
Service
Personal
Fun
Event
Blog
Company
With all these options to choose from, I am sure you can find something that can get you started, and then you can easily customize it to make it your own.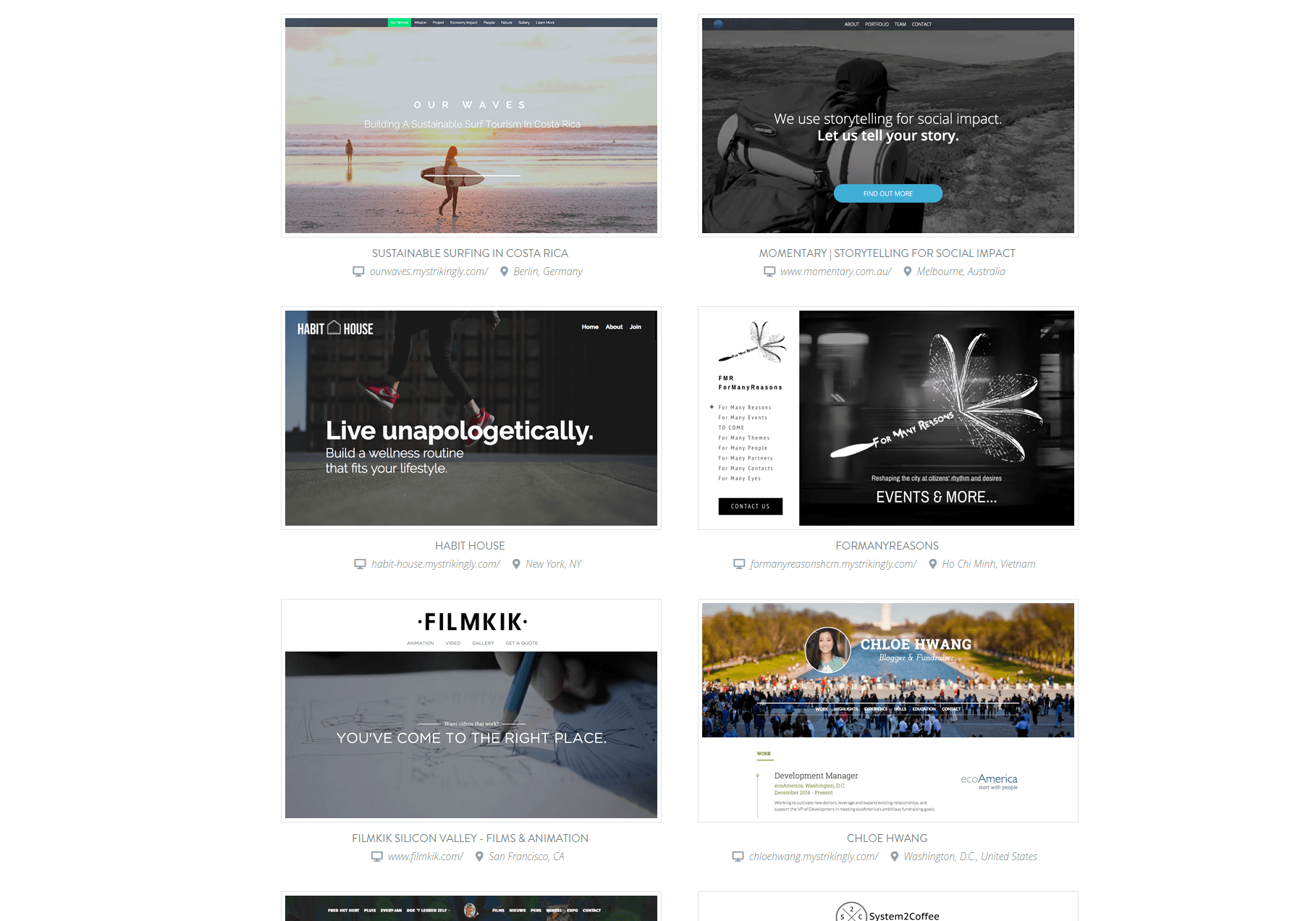 Exit Intent Popups with time delay
Strikingly has a built pops ups with time dealy that you can use for your business. With other software, you would have to pay a separate fee to get this type of functionality.
You can trigger the pops in 3 ways:
To show after 5 seconds when someone lands on your site.
When someone scrolls to the end of your page.
When someone tries to exit your site.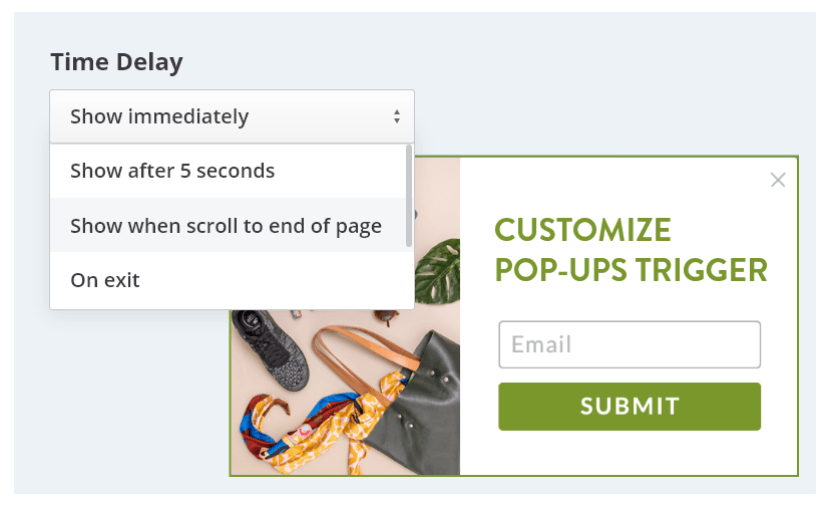 Common Questions about Strikingly
Q: How much does Strikingly cost?
A: Strikingly has three pricing plans: Basic, Pro, and Business. The Basic plan is free, and the Pro and Business plans have monthly fees.
Q: What features are included in the Pro plan?
A: The Pro plan includes eCommerce capabilities, SSL encryption, and a custom domain name.
Q: What features are included in the Business plan?
A: The Business plan includes all of the features of the Pro plan, as well as unlimited storage and bandwidth, and a team account.
Q: How can I upgrade to a higher pricing plan?
A: To upgrade, go to your account settings and select the plan that you want.
Strikingly's Pricing & Value for Money
Strikingly is an affordable platform that offers a wide range of features. The Basic plan is free, and the Pro and Business plans have monthly fees that are very reasonable. Overall, Strikingly is a great value for the money.
Customer support
Strikingly offers great customer support. They are available 24/7 to help with any questions or problems you may have, and they are always happy to help.
Conclusion
Thanks for reading our Strikingly review. We hope that this article has helped you to decide if Strikingly is the right platform for you. Overall, we think that Strikingly is a great option for anyone who wants to create a website quickly and easily. Thanks for choosing Strikingly!
If you are looking for an easy way to create a website, look no further than Strikingly.com! This website builder makes it simple and fast to create a professional-looking website in minutes.
You don't need any coding skills or design experience – Strikingly takes care of everything for you.
Plus, their templates are stylish and modern, so your website will look great no matter what industry you are in. In this review, we will take a closer look at how Strikingly works and show you how easy it is to create a website with this platform.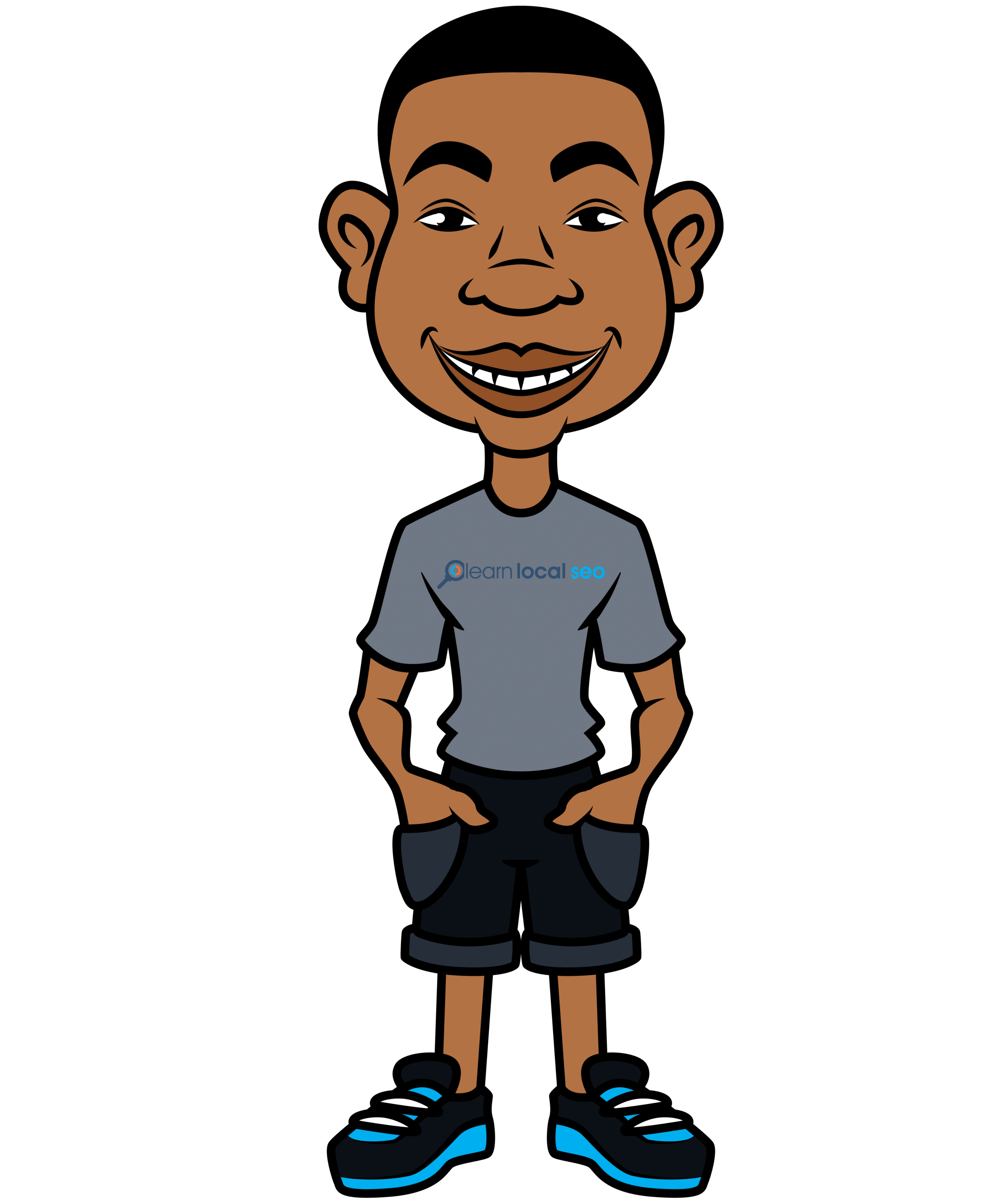 Antoine is a Local Seo expert that has personally optimized over 5,000 Google My Business listings.  With over 15 years of experience he has created the 3F Flywheel Formula for local businesses.  Antoine has worked as a Local Seo Director for one of the largest Fortune 500 digital marketing agencies. Before Antoine was in digital marketing he played professional baseball for the Chicago Cubs.  Antoine lives in southern California and writes about local seo on his blog. LearnLocalSeo.com