Small business and agency owners you know Local Seo is the most profitable marketing a small business can do. If you haven't been taking Local SEO seriously you need to start immediately.
Bright Local is one of the tools that are a must. If I only could have one tool for Local SEO I would pick Bright Local hands down. I have been using the software from the beginning and I have managed thousands of businesses with Bright Local.
Whether you need to manage your own business or hundreds of businesses this software is a must for local SEO. This Bright Local review is coming from someone that has used the software day in and day out.
I have personally used Bright Local at my own small boutique agency and I brought the software with me when I was working at the largest Fortune 500 marketing company at the time. Yes, Bright Local is that versatile and that good.

Our Take
Looking for the best way to track and monitor your local SEO data? You need this software! If you have a Google Business Profile account, then it's time we showed how much easier things could be with this one tool. The software has everything you need to manage and track your Google Business Profile in an easy-to-understand format, so even those who aren't experts will know where they stand compared to their competitors.
What is Bright Local?
Bright local is your one-stop to track and monitor your local business SEO data. This is a must for a local business. If you have a Google My Business account you need this software.
The software gives you everything you need in a beautiful customizable dashboard to fit your needs. There is no need to be an SEO guru. Everything is straightforward and easy to understand.
The software tracks and monitors everything as well as tracks competitors so you know exactly where you stand in the marketplace. Whether you have 1 business or run a 1,000-location franchise, Bright Local can get the job done. In this Bright Local Review, I will show you why you need this software for your business.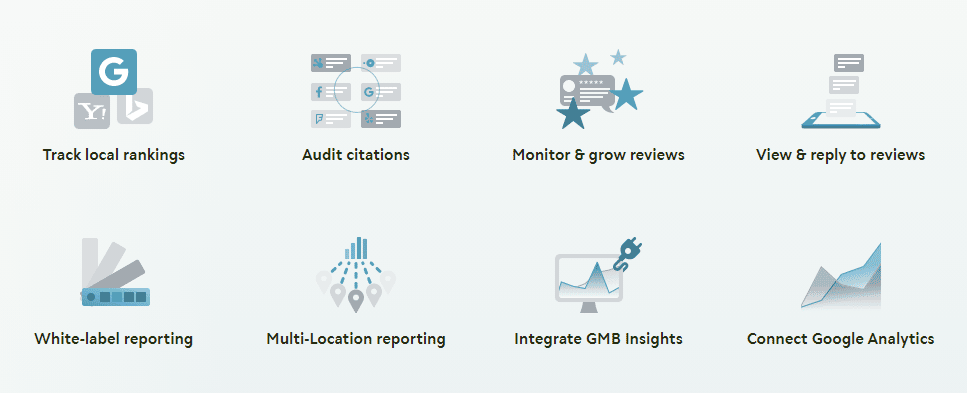 With this software there is so much you can do:
Track Local and Google My Business rankings
Track Local search Grid rankings
Track Citation's aka (Name Address and Phone)
Build Citations (Your businesses Name Address and Phone)
Monitor your reviews on all major platforms
Perform a Local Search Audit in 8 minutes
Integrate Google Analytics
Monitor Social Mentions across the internet.
1. Bright Local has stood the test of time.
Bright Local has stood the test of time. The company has been around since 2008.
Local SEO was barely a thing back then but the company had the foresight to build this platform.
In internet years this SEO software company is 100 years old.

2. Built for local SEO from the start.
Bright local was built for local SEO from the start. A lot of companies have jumped on the local SEO Google My Business bandwagon because Local SEO is hot right now.
Other SEO companies have added features to their existing software, but those companies added features are an afterthought. They are lacking Bright Locals in-depth integration that is specifically built for local SEO.
3. Best Customer Support
Bright local has the best customer service support in the industry. Think of their support as an extension of your team. They truly care about your local SEO campaign.
For instance when you order citations (local business listings aka your name address and phone number spread across the internet.) Bright Local will review your order and make sure everything is correct. They will not just take what you inputted at face value.
They will double-check and make sure everything is correct against your Google My Business listing. I can't tell you how many times they have saved me.
They will not run your campaign unless it matches your Google My Business Listing. Bright Local understands how important this is. So when I say Bright Local has great support.
They are more than supportive. I consider them my partner. They have an amazing dedicated team.

4. Minutes to set up your business
You are going to save so much time using this software. To get your business set up it literally takes 6 minutes to set up your business and get everything tracking. When I started in Local Seo tracking and monitoring were such a pain. I was using 3 or 4 different software trying to track all the things you need to track. Now with Bright Local, you can easily get this done in a couple of clicks.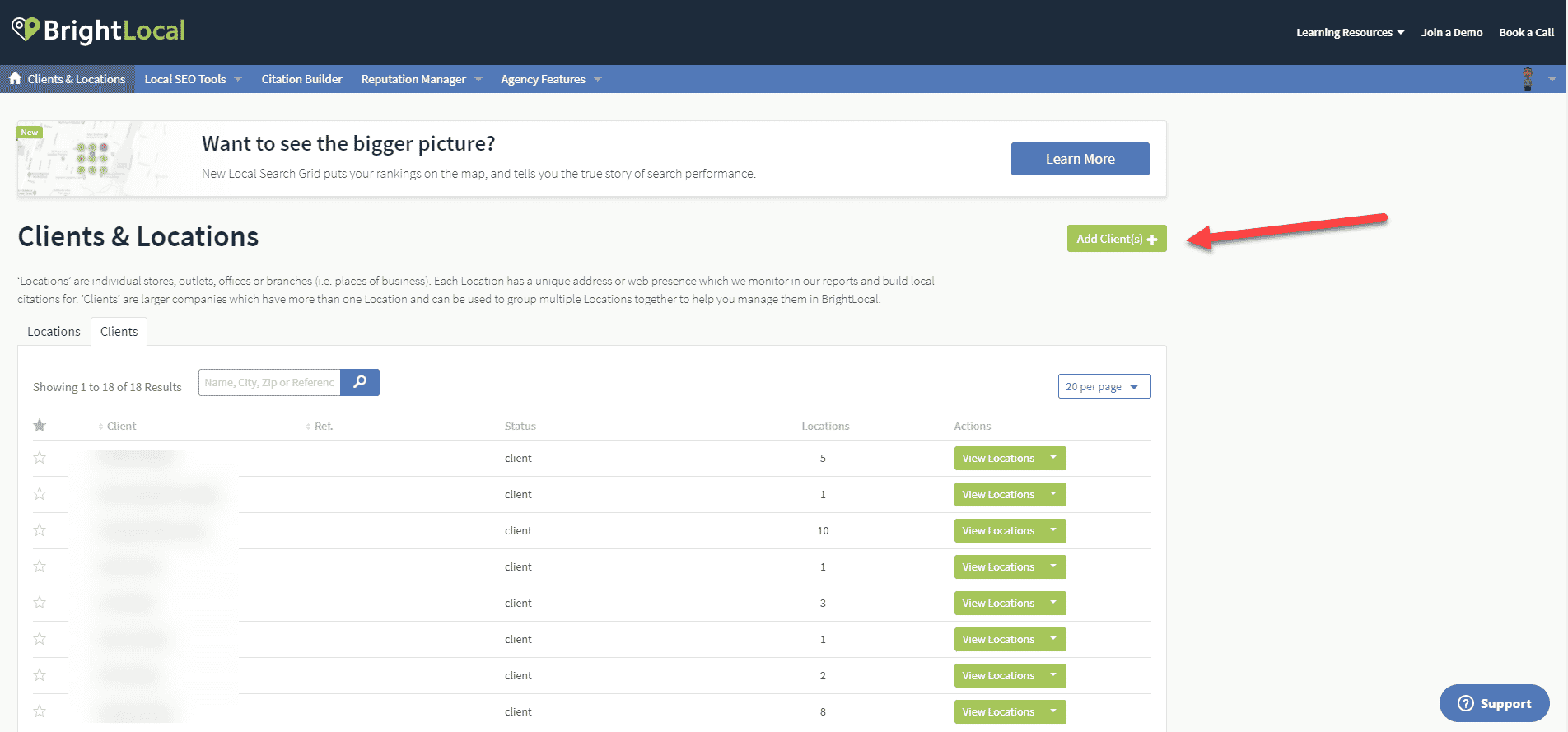 All you have to do is log in and click the Add Client button. After you do this add your company name and website address and click add. Then you find your business with Bright Local's tool.
This used to be a pain, but Bright Local has integrated their software with Google's API to find your Google My Business listing. Once you find your business Bright Local takes care of the rest. It's so simple and fast.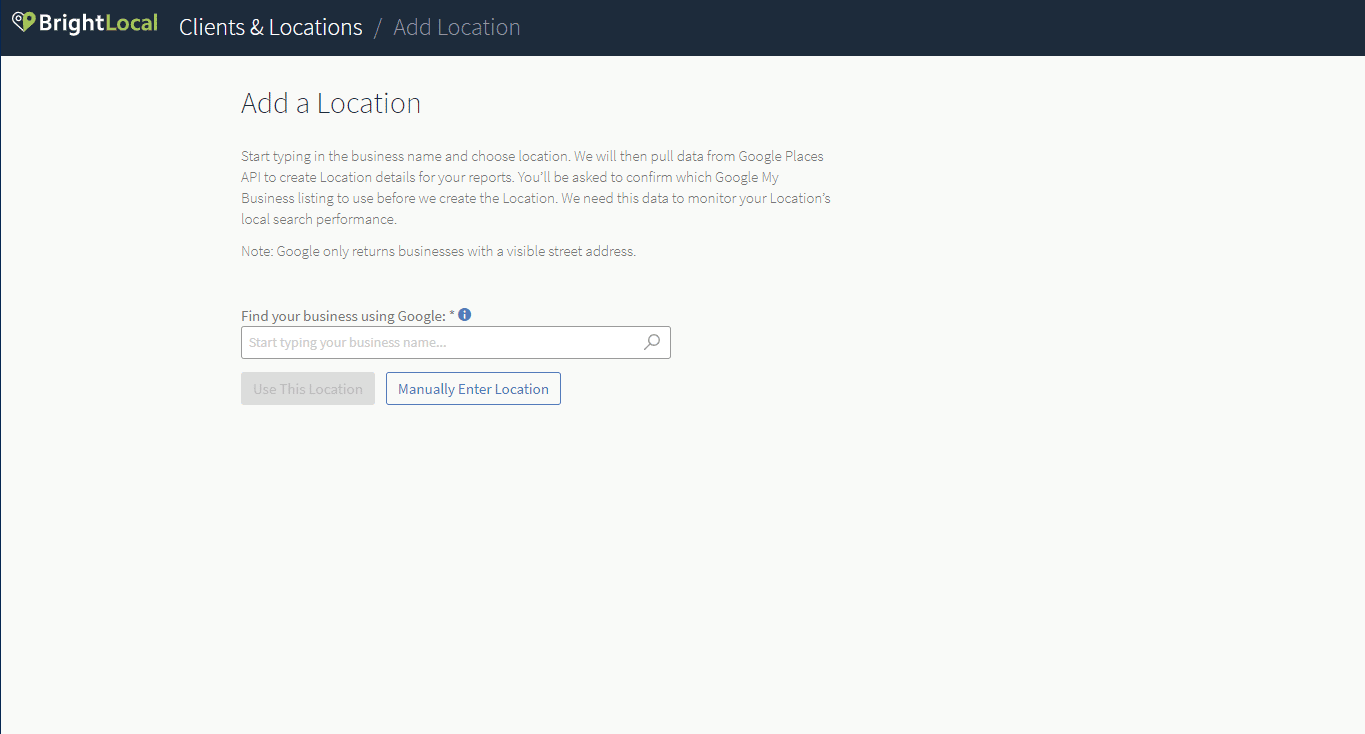 After that, you can run reports for the first time of your business. You can set these reports to run daily, weekly or monthly. It is really that simple. When I started doing Local SEO in 2006 we didn't have these awesome tools.
5. The Rank Checker
Bright local has the best local SEO ranking software checker in the business when it comes to monitoring keyword rankings.
Here is a screenshot of the rank checker dashboard: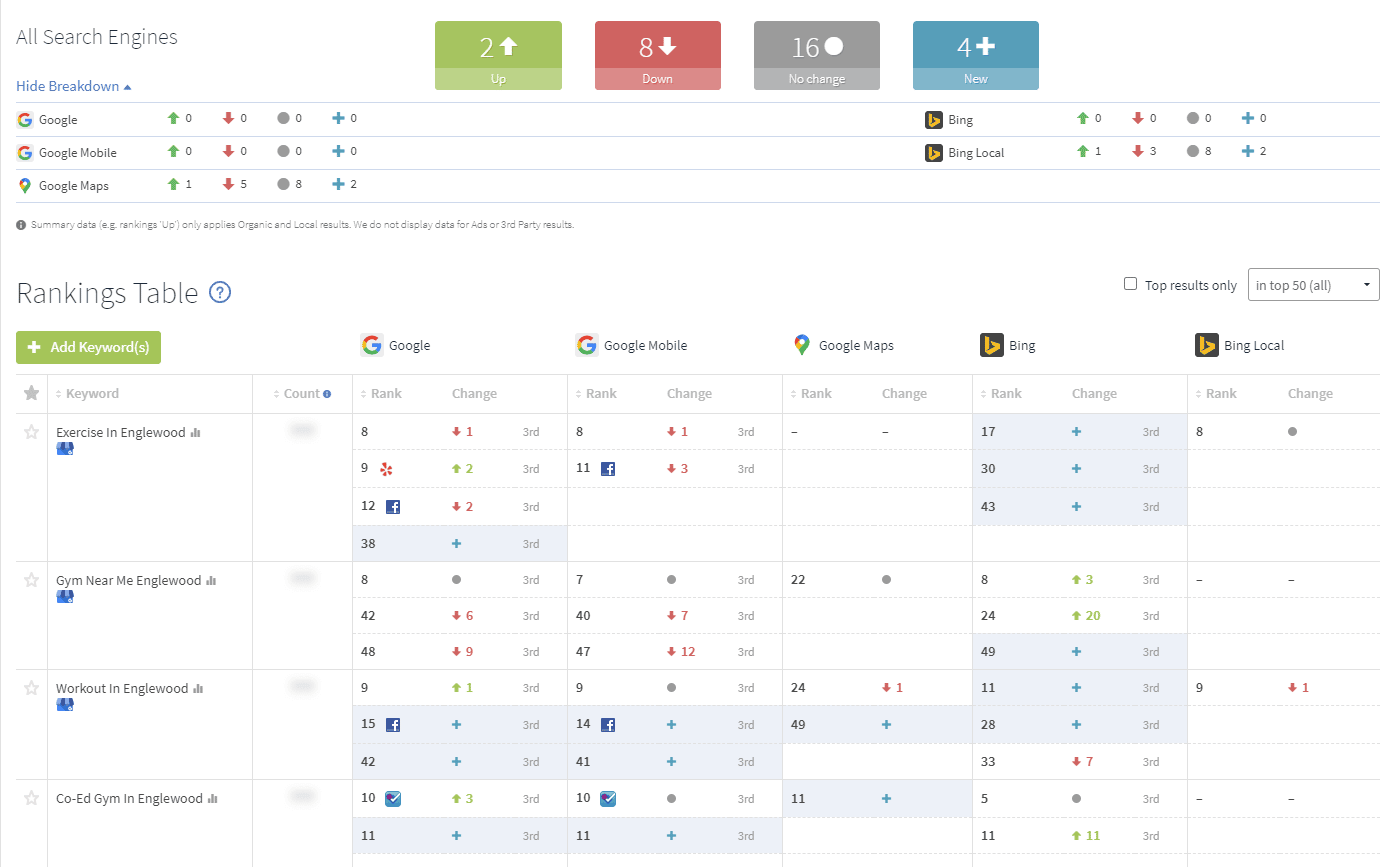 Bright Local's rank checker let's check your 3-pack rankings as well as your local organic listings. You can also track your Bing rankings as well. It doesn't matter what your SEO strategy is, you need to know where you stand in the search engines.
You can set this report to run daily, weekly, or monthly. The report is very robust. You can set up keyword groups to see how a certain set of keywords are doing.
The best part of this tool is the ranking history reports. You can compare rankings from specific dates. You can track the history of a keyword with their keyword tracker chart.
Bright Local also has an Aggregate Ranking Chart where you can see your ranking over time. We like to set up this report to run weekly so we can go back and see how our rankings did week to week. It's awesome how much data Bright Local gives you in a couple of clicks.
The last cool feature in Bright Local's Rank Checker report is you can click on any keyword you're tracking in the report and you have three options.
The first option is to screenshot exactly where you are currently ranking in the search results. You can send this to a client for proof or add it to a case study if you are ranking high.

The second option is you click and go directly to the page that is ranking in the search results.
The last thing you can do is click a button and Bright Local will take you exactly to the search results to see if your ranking is the same as the report.
These features might not seem big but if you are an agency or business owner this will save you a lot of time.
6. The Local Search Grid
This local search grid is another tool in the arsenal for agencies and business owners. This tool will save you a lot of time and conversations with your clients.
Every service area business wants to rank everywhere when you start working with them. This grid shows them exactly where they rank and how differently you can rank depending on where you are at in a local city.
Here is an example of the Local Search Grid: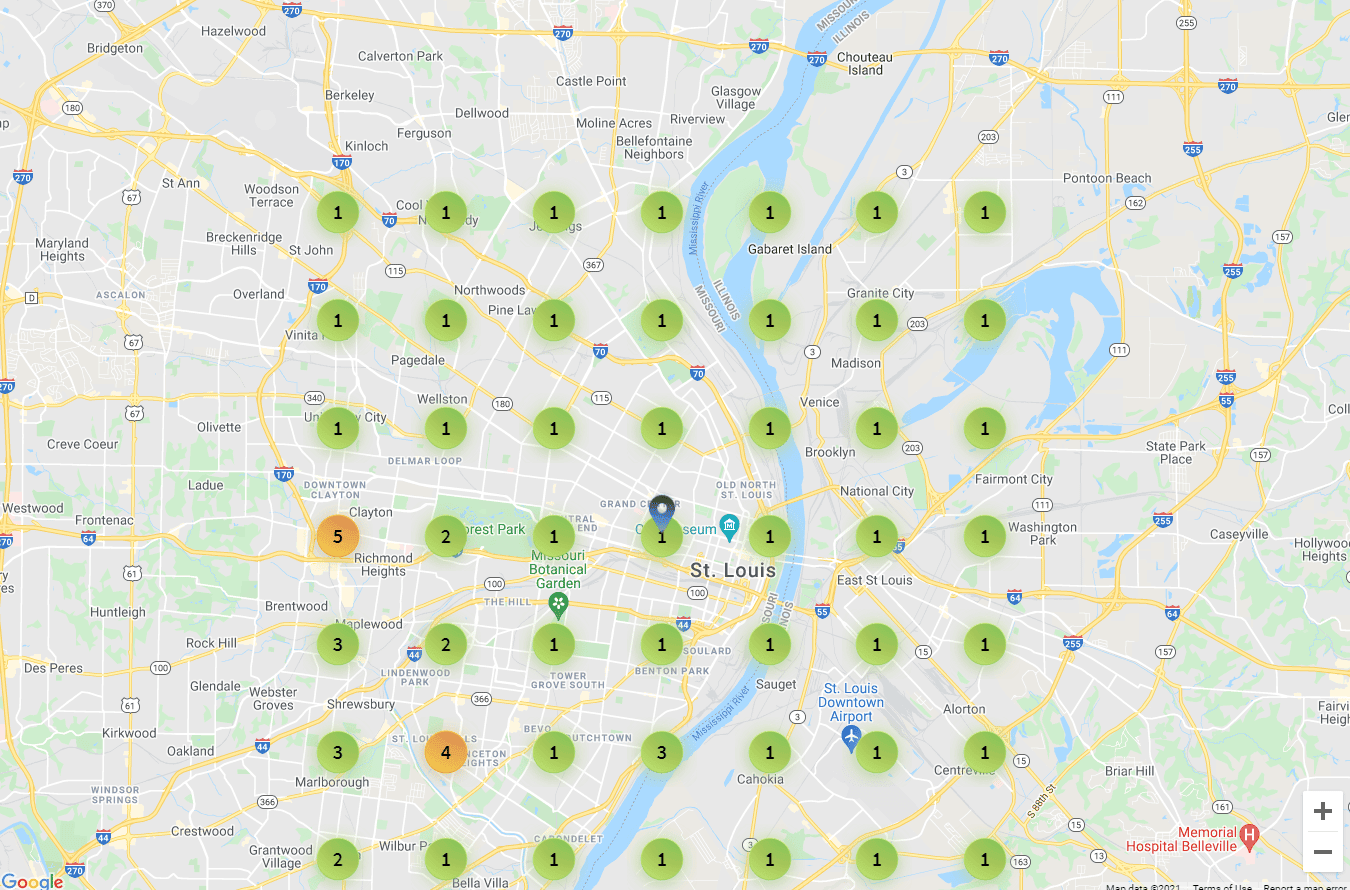 As you can see this client is dominating throughout the city. But in most cases, they are not.
This is a great visual tool to show your client that Google ranks you differently in different areas.

We had a client that would always check their rankings on their phone when they got home vs when they were in the office.
They were different and it always bothered him. Now we have this visual representation and we can explain why this happens and why Google does this.
Before we didn't have this tool in our arsenal. Thank you Bright Local.
7. Citation Tracker
This tool is so underrated and it has literally saved me, my clients, from leaving when I worked at a major agency.
This tool tracks all of your citations aka local business listings. If you still don't know what that is, this tracks your Name address, and phone number across the internet.

This is important to know. As a local business, it is important to have your name, address, and phone number on as many local websites and directories as possible.
This helps Google trust you and this will help you with your rankings.

There are 4 sections to this report. First is the key citations.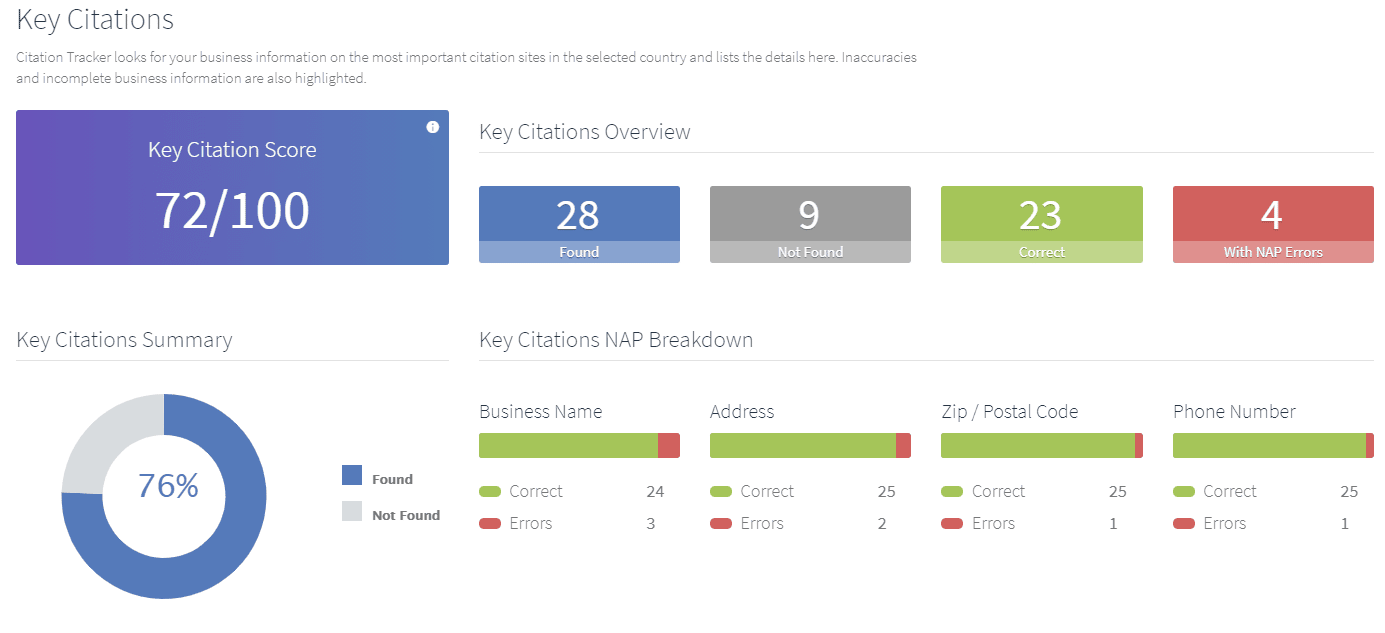 This report shows you the most important listings you need to be on. This report takes seconds to run and gives you a detailed report of where you need to start.
We start here. If a business is not on these listings we get them on these listings first before we do anything else.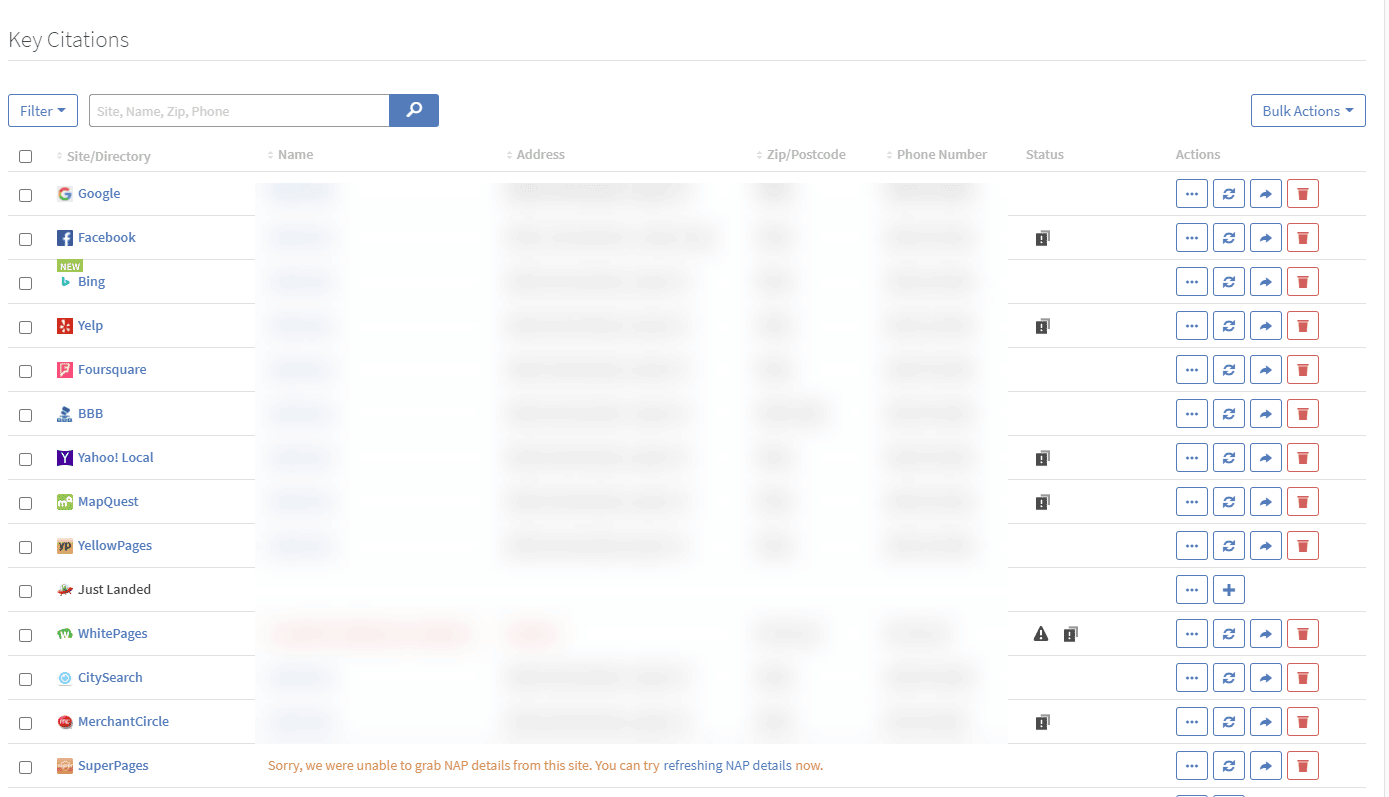 The second part of the report is the live citations. This is a lifesaver and helps show your client that you are working on stuff and their campaign is growing.
Protip set this up to run monthly then you will get a nice graph monthly of your citations growing.

The third part of the report is pending citations. Have you ever created new citations and are wondering if they are live yet?
This report will save you time and keep you organized.
The last part of the report is the competitor citations.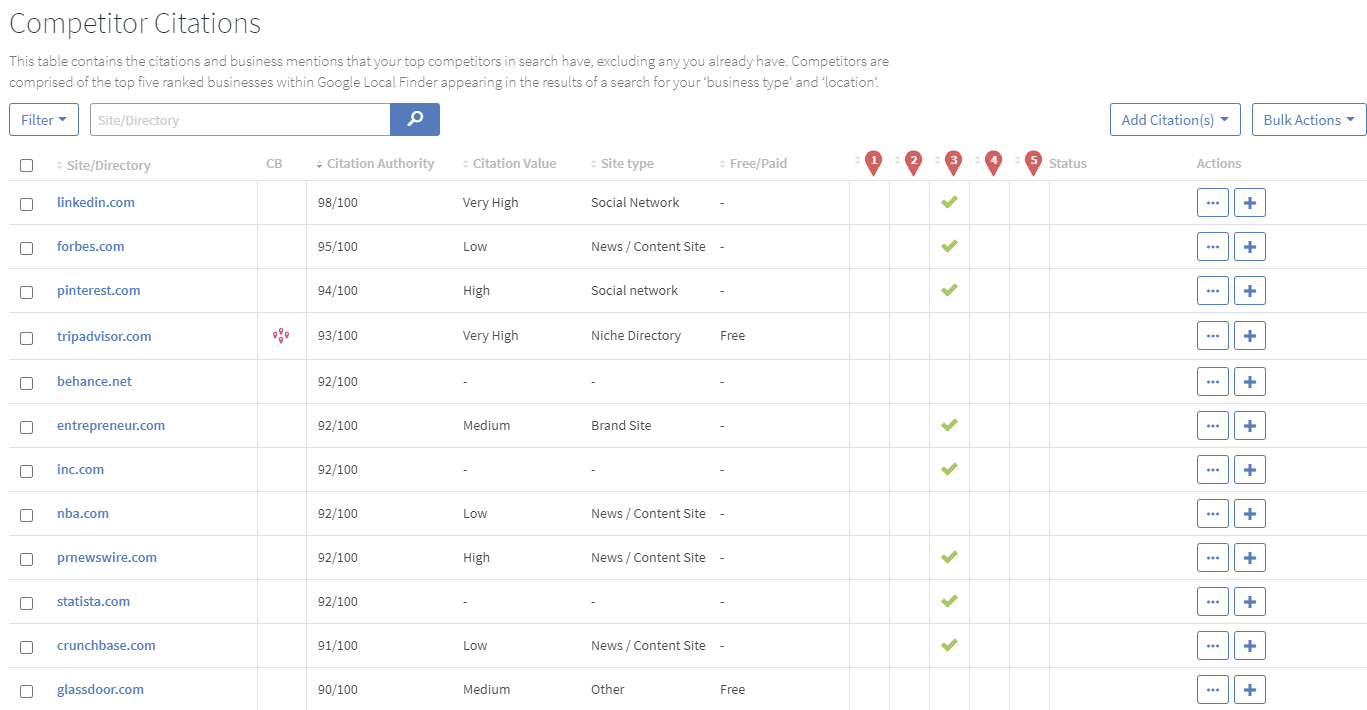 This report will help you find citations that your competitors are on that you're not. This report will save you hours and hours of research.
If all your competitors are on a directory and your business is not you can easily find the holes in your local SEO campaign with this competitor report.
8. Citation Builder
Once you have run the citation tracker report, it's time to head over to the citation builder.
This is where you clean up and build local citations for your business. This will also help the consumer when searching for your business online.
With a couple of clicks, you can hire Bright Local to submit your company to data aggregators.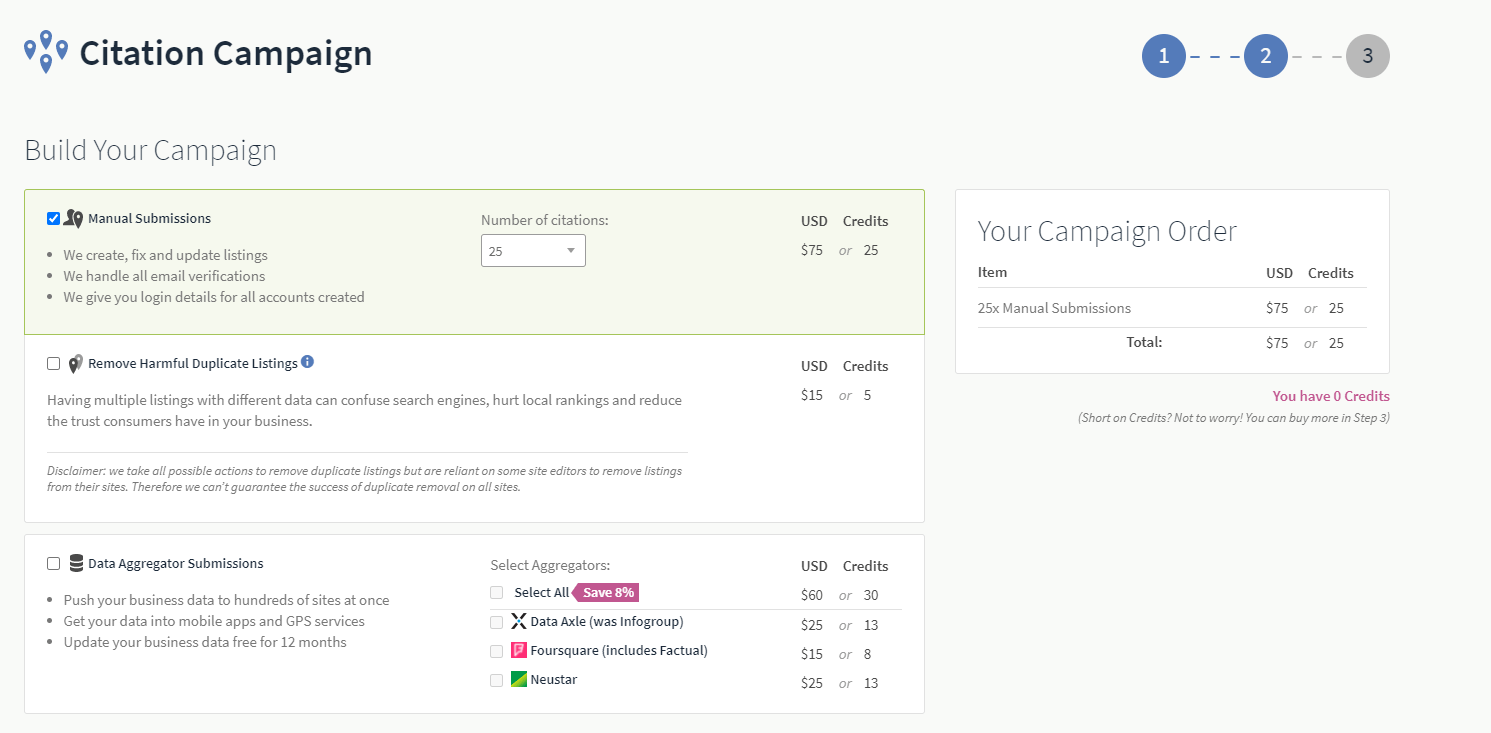 This only cost 60 dollars. I don't even know how they do this. We suggest you start with this first. After that, you can buy manual citations to those listings that you want to be on.
Building local business listings used to take days and weeks to do. Now you can get your citations done in a matter of minutes. This is truly amazing.
9. Google My Business
We know Google My Business is the heart of any local SEO campaign. Let's face it, if you are not ranking in the top 3 in Google My Business you are missing out on a lot of potential customers.
Don't worry Bright Local has you covered. You can track your top 5 keywords against your top 10 competitors.
This is so crucial.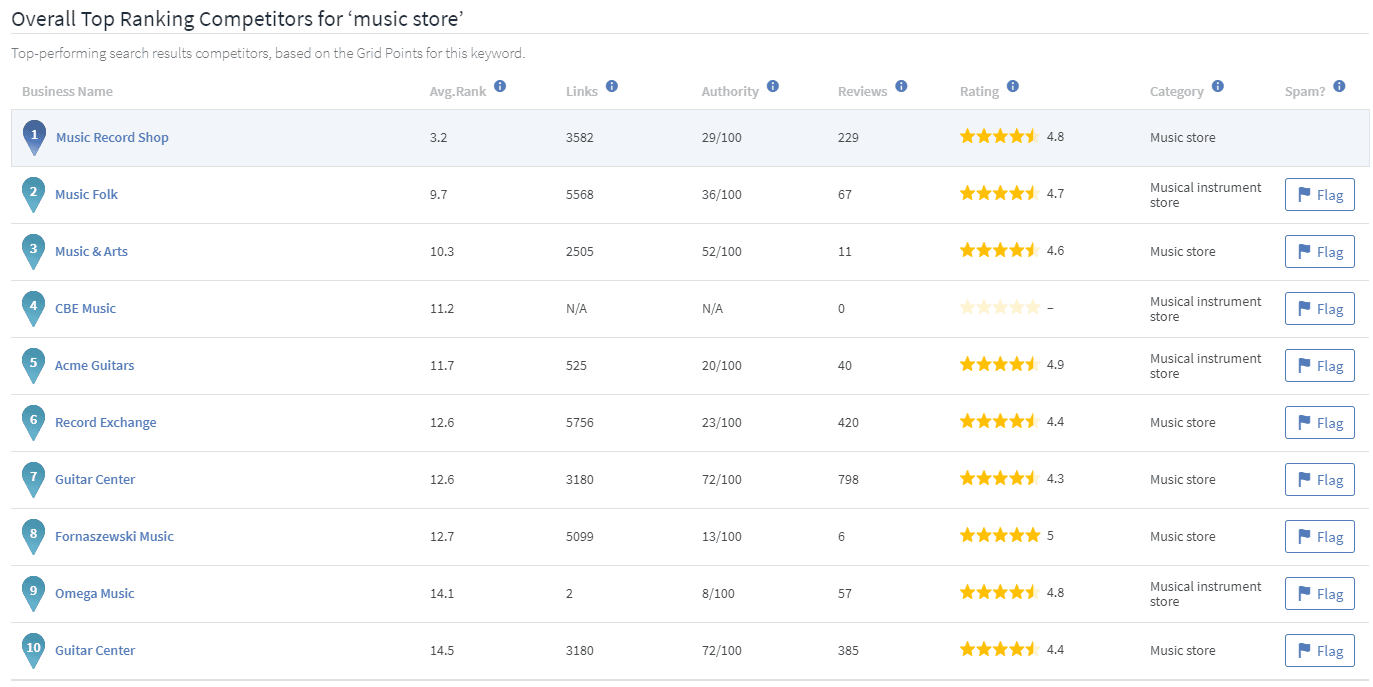 Bright local also gives you the category your competitor used in their Google My Business listing as well.
Once again this will save you a bunch of time and you quickly see where you stand against your competitors and what you need to work on.
This report also gives you actionable insights so you know what to do to show up at the top of any search engine.
The report gives you a quick snapshot of the top 10 businesses:
Citations
Key Citations
Links
Linking Domains
Website Authority
Review County
Star Rating
Photos
Categories
Business name
If the business has been verified
This information will help you find out exactly what you need to do to outrank your competition. This information is vital for small businesses and SEO agencies.
10. Reputation Manager
Bright Local reputation is the best in the business. We all know a business's online reputation is the lifeblood.
It doesn't matter where you rank if you have a bad reputation nobody will call you.
Here is a screenshot of the reputation overview: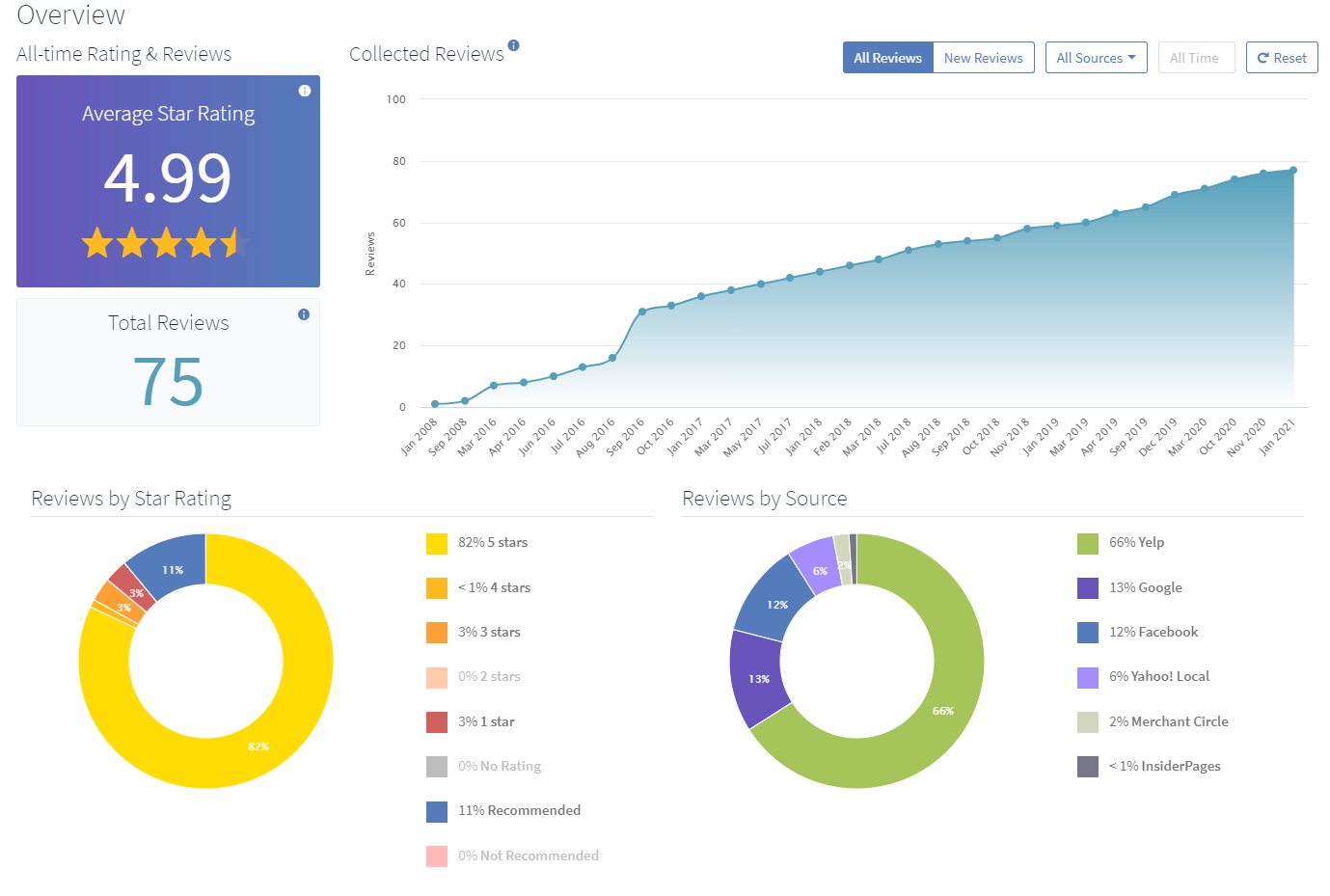 With the reputation manager report, you can really take control of your reputation online.
You can monitor all your online reviews in one place as well as get a breakdown of where all of your reviews are coming from.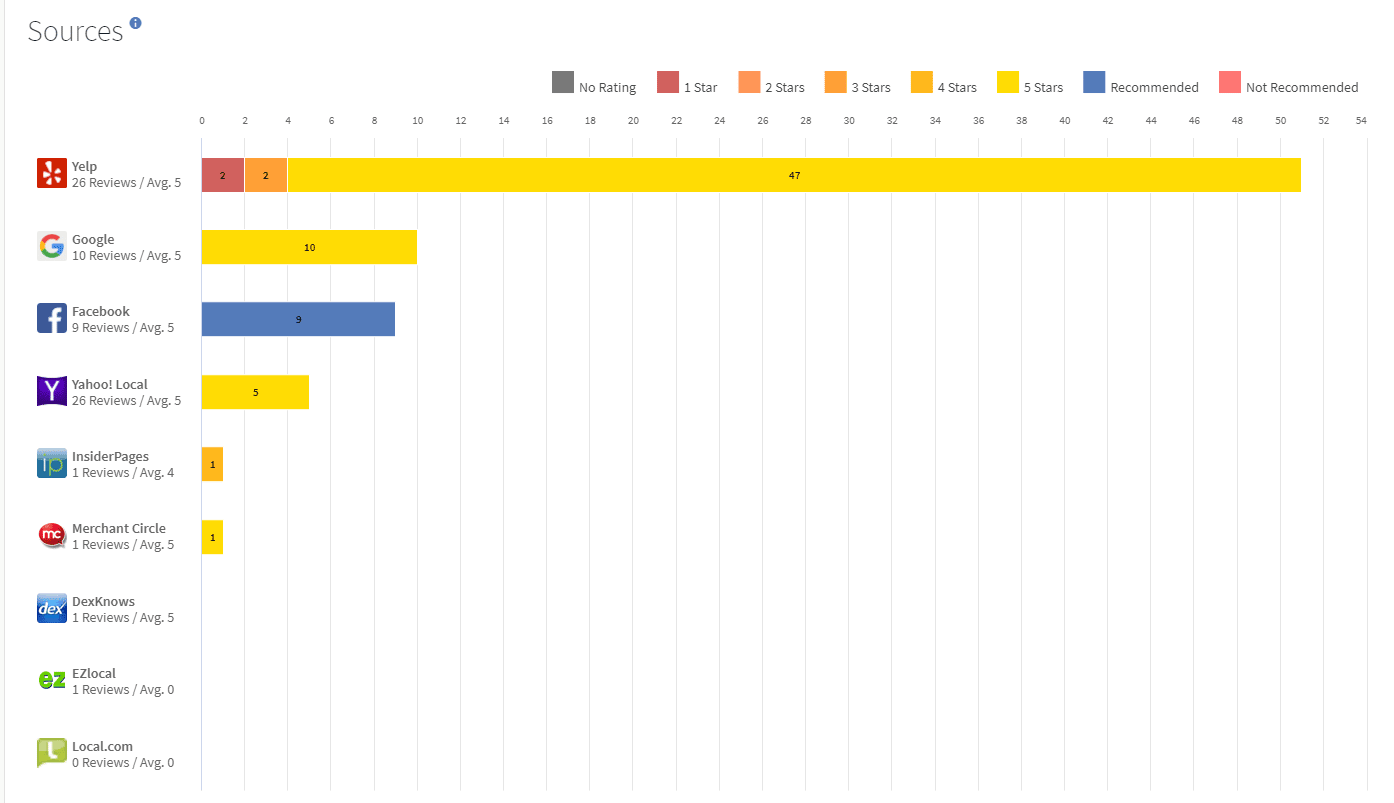 The best part of Reputation Manager is their Get Reviews tools. Once you set it up you can get reviews consistently from the top places like Yelp, Facebook, and Google. Once you set this up you will get reviews on autopilot.
You can send personalized campaigns that gather valuable feedback and guide customers to write reviews on the websites that are most important to your business.

Other companies charge $75 dollars a month and up for a tool like this. With Bright Local, it's included in your subscription.
The last part of Reputation Manager is where you can create a review site page on your website.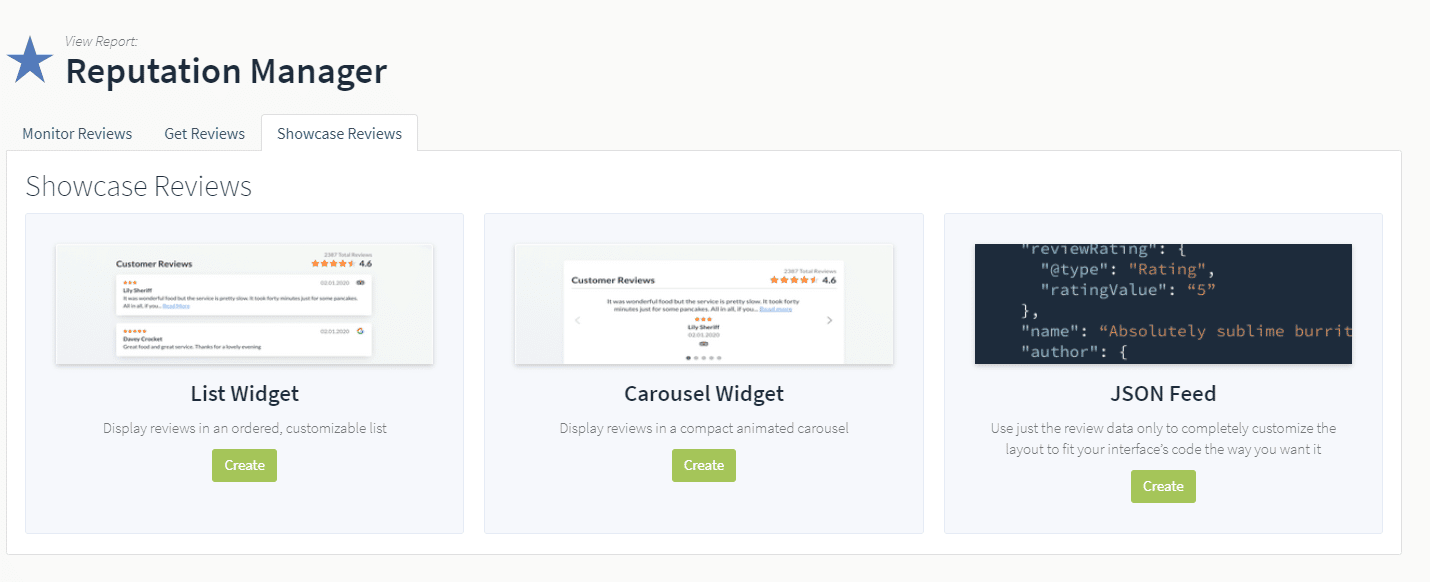 You can create a widget to put on your website. You can hand select the reviews you want to show up or you can put the tool on auto select and it will randomly show your reviews on your website.
This local SEO tool is so much more than monitoring. It helps you market your reputation which is what it's all about. The tool will also help keep a negative reviews off the internet. Now when a potential customer checks your online presence you will have recent positive reviews.
11. Local Seo Audit
Agencies know how important it is to audit a business. You need to diagnose a business's problems quickly without spending hours on an audit.
Well, Bright Local has the solution. You can get answers to the top 8 local marketing questions every business needs to know in a couple of minutes.

With Bright Local's audit tool you can get answers to small businesses:
Links & Authority
Rank Checker
Local Listings
Reputation
Google My Business
On-Site SEO
Social Channels
These reports can be white labeled with your own company's logo. Finding out what is wrong with a business doesn't have to take long. Bright Local can get you answers in 5 minutes.
12. Google Analytics
You can connect your Google Analytics account to your Bright Local account. Now you can go into one place and get all of your data.
You don't have to log out of Bright Local and then log in to Google Analytics it's all there under Bright Local. This saves time and keeps one less tab open on your browser.
13. Social
Now you can connect your Twitter and Facebook account business page to Bright Local as well.

You can check all your social media stats just like if you were logged into Facebook or Twitter.
This is just another perk of having an account with Bright Local.
14. Agency Features
Bright Local has an agency directory. You can list your agency and get exposure for your business.

The next thing Bright local has is a Lead Gen tool for you. You can set this up and give away free local SEO reports on your website. This will help your business get leads.

You can also customize this with your own business colors and branding to make it your own. You can collect a business's name, phone number, email, and business type.
The next thing in Agency features is pitch decks. If you don't have sales material of your own this is not a bad place to start. Bright Local gives you 3 pitch decks and a local SEO proposal to use.
You can add your business info to these and change the colors to match your business or potential customers.
15. White Label Reports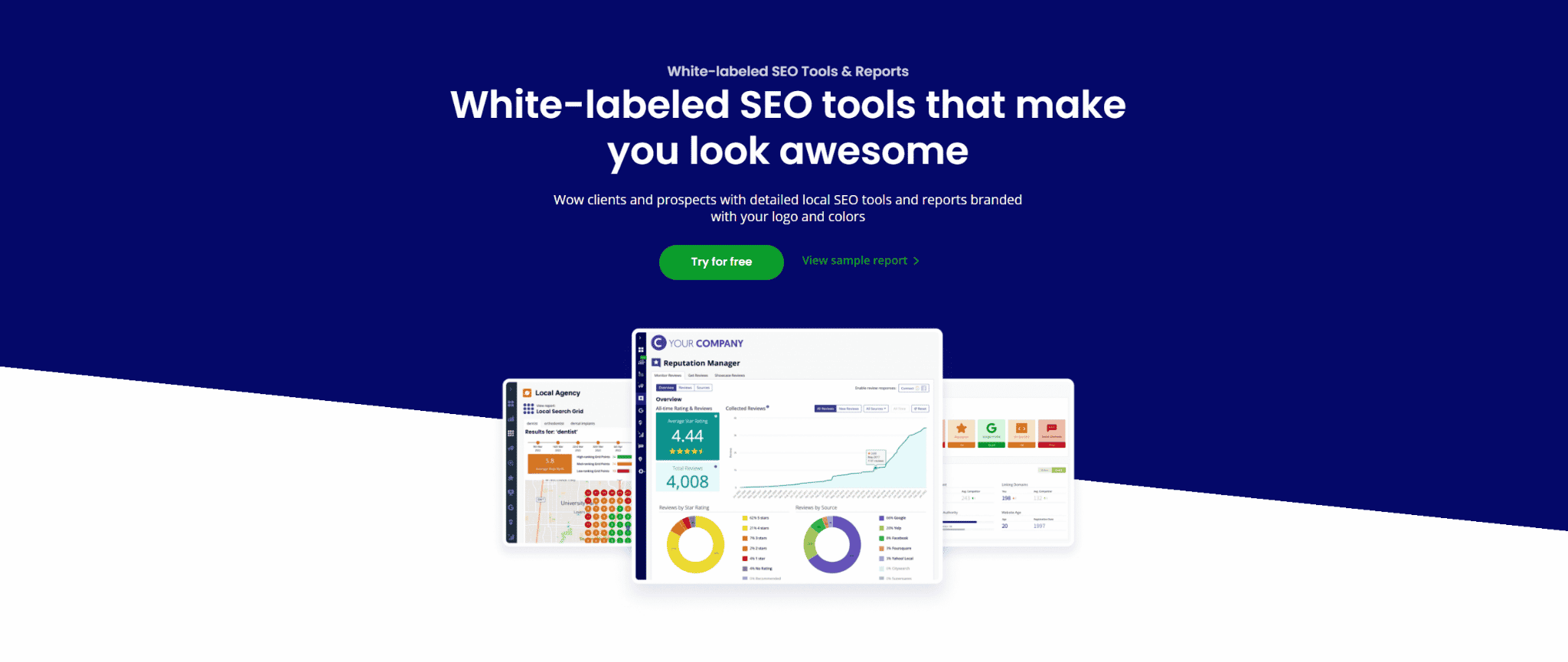 The last thing is white label profiles. You can white label any report in Bright Local. You can add your company's logo and color to any report to make it your own.
This makes your business or agency look really professional especially if you are starting out. I can't tell you how many times I got clients just on these reports alone. Here is a sample report.
16. API Access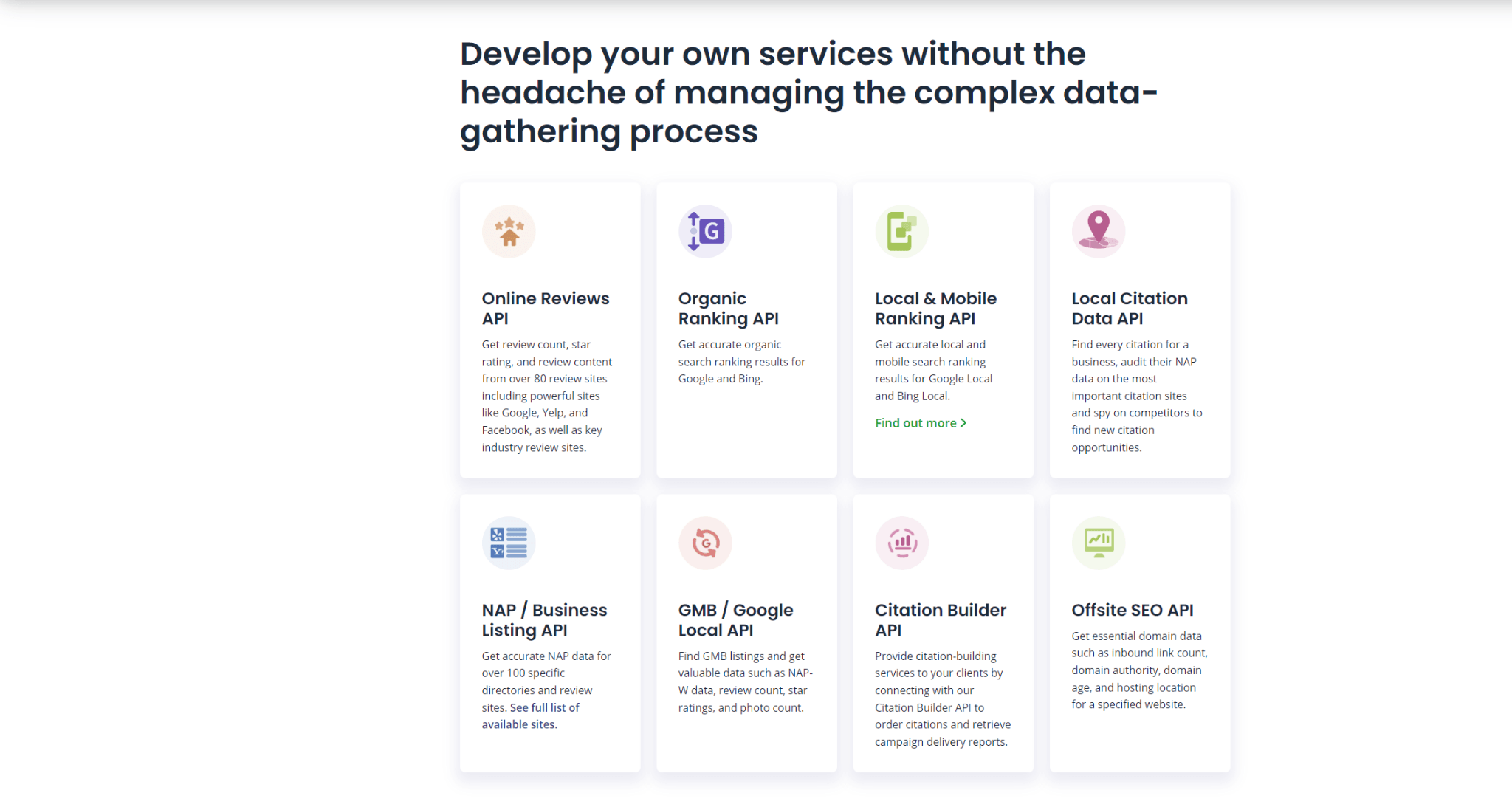 If you are more advanced Bright Local will give you access to their API. You can develop your own custom services and let BrightLocal do all the heaving lifting. API pricing is per request. Here is the API documentation.
17. Local Search Checker

If you ever wanted to check your Google Business Profile listing and pretend you are in another city-state etc this is the free tool Bright Local Provides for you.
If you are helping local businesses with their SEO this is an important tool to see how that particular business shows up in the search results in different areas. This tool is a quick way to check.
18. Local Rank Flux
Have you ever wondered if there was a Google algorithm change? Did your rankings go up or down all of a sudden and you don't know why?
Well, Bright local has a tool to monitor fluctuations across all the Google Business Profiles they manage. This is thousands and thousands of GBP listings. So we will know if there was an algorithm shift or not.
19. Google Review Link Generator
Have you ever tried to find your review link on your Google Business Profile so you could give it to a customer so they can leave a review? Yes, it's a pain in the butt to find.
Well, Bright makes it easy with their Google Review link generator. All you have to do is type in your business name in the search bar and click fetch links.
Bright Local will give you your review link. It's that simple.
Bright Local Review Conclusion
If you're not using Bright Local for your to track your local SEO rankings, you're missing out on one of the most profitable marketing opportunities available to small businesses.
I've been using Bright Local since it first came on the market, and I can attest that it is by far the best tool for managing local SEO campaigns.
With Bright Local, you can easily keep track of your rankings, reviews, and social media activity across all major platforms. Sign up for a free trial today – you won't regret it!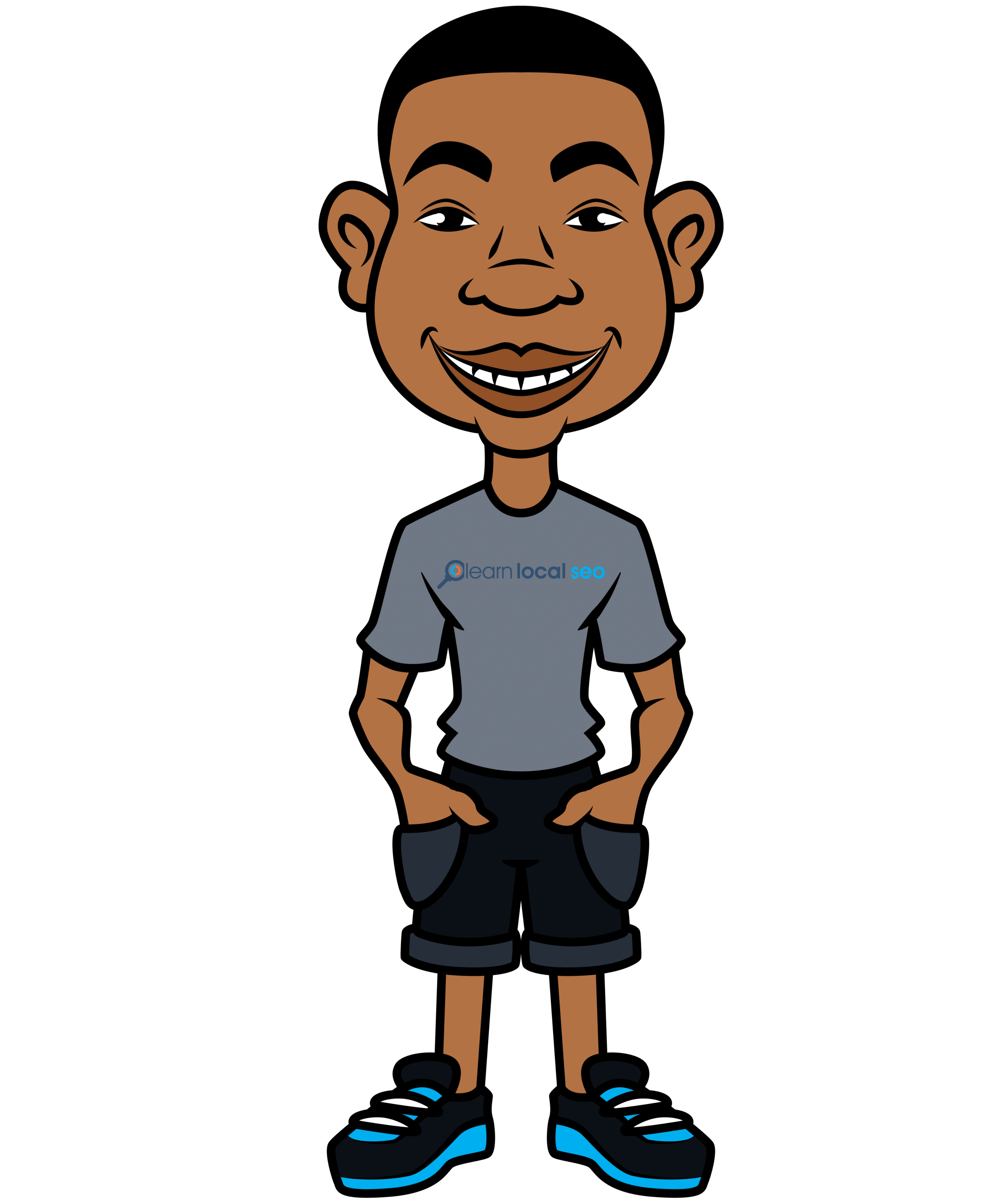 Antoine is a Local Seo expert that has personally optimized over 5,000 Google My Business listings.  With over 15 years of experience he has created the 3F Flywheel Formula for local businesses.  Antoine has worked as a Local Seo Director for one of the largest Fortune 500 digital marketing agencies. Before Antoine was in digital marketing he played professional baseball for the Chicago Cubs.  Antoine lives in southern California and writes about local seo on his blog. LearnLocalSeo.com