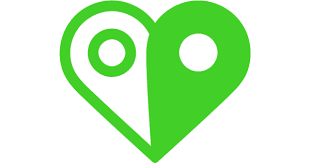 Bright Local
Bright Local has everything you need to manage and track your Google Business Profile in an easy-to-understand format for anyone to understand.
Local Viking
Local Viking is the perfect solution for any agency that manages multiple GBP locations at scale. The software has features to automate tasks.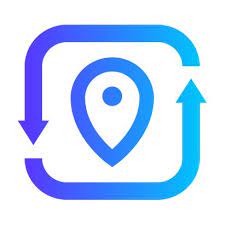 Surfer Local
A comprehensive tool to help you manage your GBP. This software has everything you need to manage your business listings.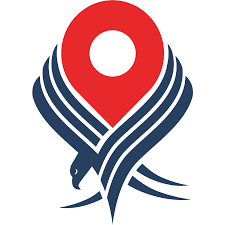 Local Falcon
A solid tool that has a lot of tracking features that will help you manage your listings. The software has a simple interface.

Moz
Manage and sync your Business listings with Moz Local. Profile optimization is a breeze with this software.
Local SEO is the most profitable digital marketing task a small business owner can do to get more clients and customers.
The problem is small business owners don't have time to become full-time SEO experts. So they need tools to leverage their time.
So whether you need to check your rankings or competition, you need a tool that can help you find the answer quickly.
In this article, I ranked and reviewed the five best local SEO software on the market.
There are a lot of local SEO software tools on the market, but the main criteria in this article are the software had to be built for local from the ground up, and not something built on existing SEO software.
For example, SEMRush is a great SEO tool, but it wasn't built exclusively for local SEO. They have been adding components lately but the software is not dedicated to local SEO.
Ok, let's get to the list.
What Is the Best Local SEO Software?
Here are my picks for the best local SEO software to help get you more clients and customers for your business.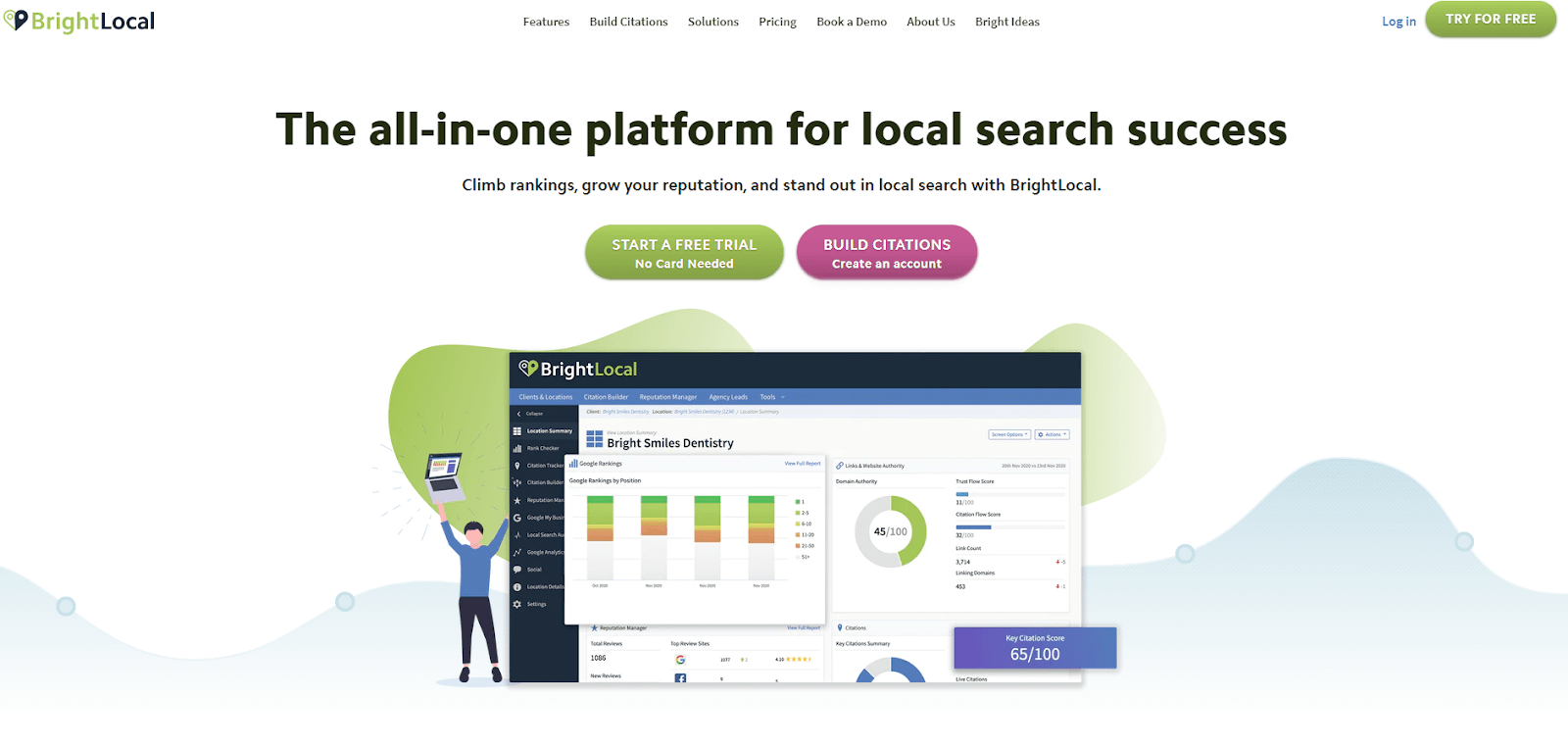 1. Bright Local
BrightLocal, in my humble opinion, is the best overall local SEO software on the market. Brightlocal gives you everything you need to manage your local SEO campaign for your business or your clients.

Our Take
Looking for the best way to track and monitor your local SEO data? You need this software! If you have a Google Business Profile account, then it's time we showed how much easier things could be with this one tool. The software has everything you need to manage and track your Google Business Profile in an easy-to-understand format, so even those who aren't experts will know where they stand compared to their competitors.
If you want to see our full in-depth article on bright local click here.
Key Features:
Rank Checker

– Track Local and Google My Business Rankings

.
Local Search Grid

– This shows how your business is ranking throughout the city.

Citation Tracker

– Track all your citations aka local business listings in one report.

Citation Builder

– You can build more citations for your business in a couple of clicks.
Pricing: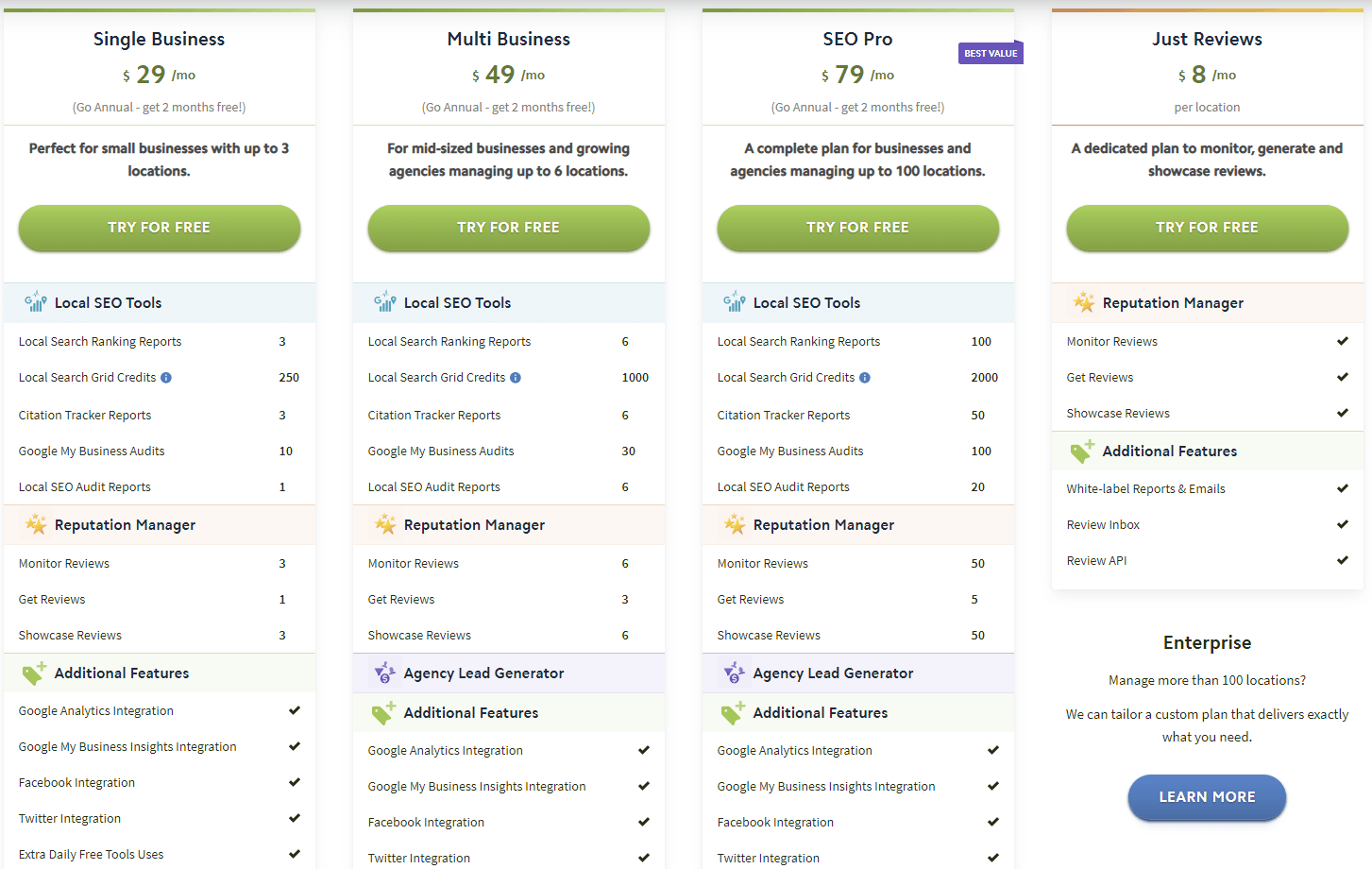 You can test out BrightLocal for 14 days.  No credit card is required. Prices range from $29 a month for one location to $79 a month for 100 locations.  
Used For:
Track Local and GMB rankings
Track Local search Grid rankings
Track Citations
Monitor your reviews on all major platforms
Perform a local search audit in 8 minutes
Cons:
Can't schedule Google My Business Posts yet.
Can't customize emails with monthly reports.
Slow reports at the beginning of the month.
Get Started with a 14 day free trial of BrightLocal.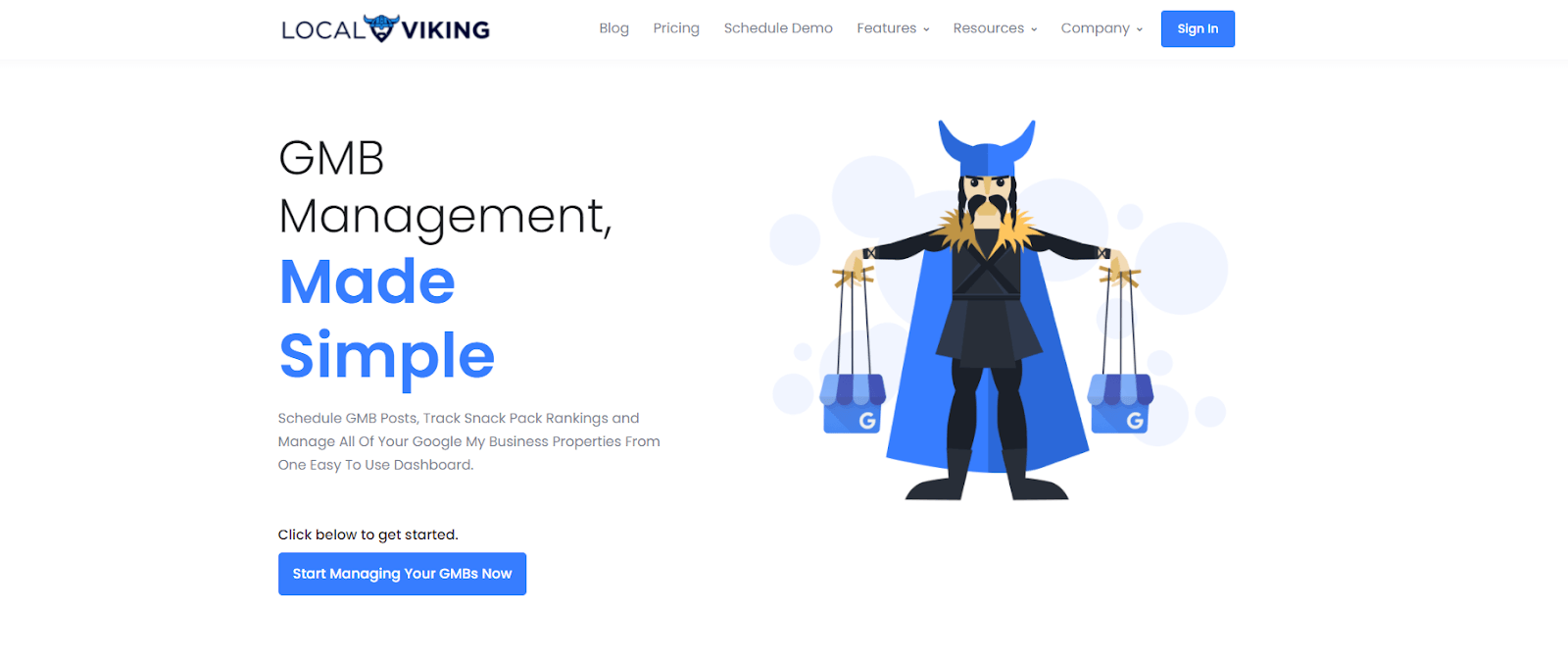 Local Viking has everything you wished BrightLocal offered. The software is made for agencies managing multiple GMB listings. If you are a single business, it will work, but Local Viking really shines if you are an agency.
Key Features:
Schedule GMB posts:

You can schedule Google My Business posts

and every type of GMB post

.

Lock Your GMB Listing:

You can stop competitors and customers from making changes to your GMB listing.

GMB & Organic Tracking:

Track your Google My Business listing and local organic search results.

GMB Photo Scheduling:

Upload your photos to your Google My Business listings on autopilot.
Pricing: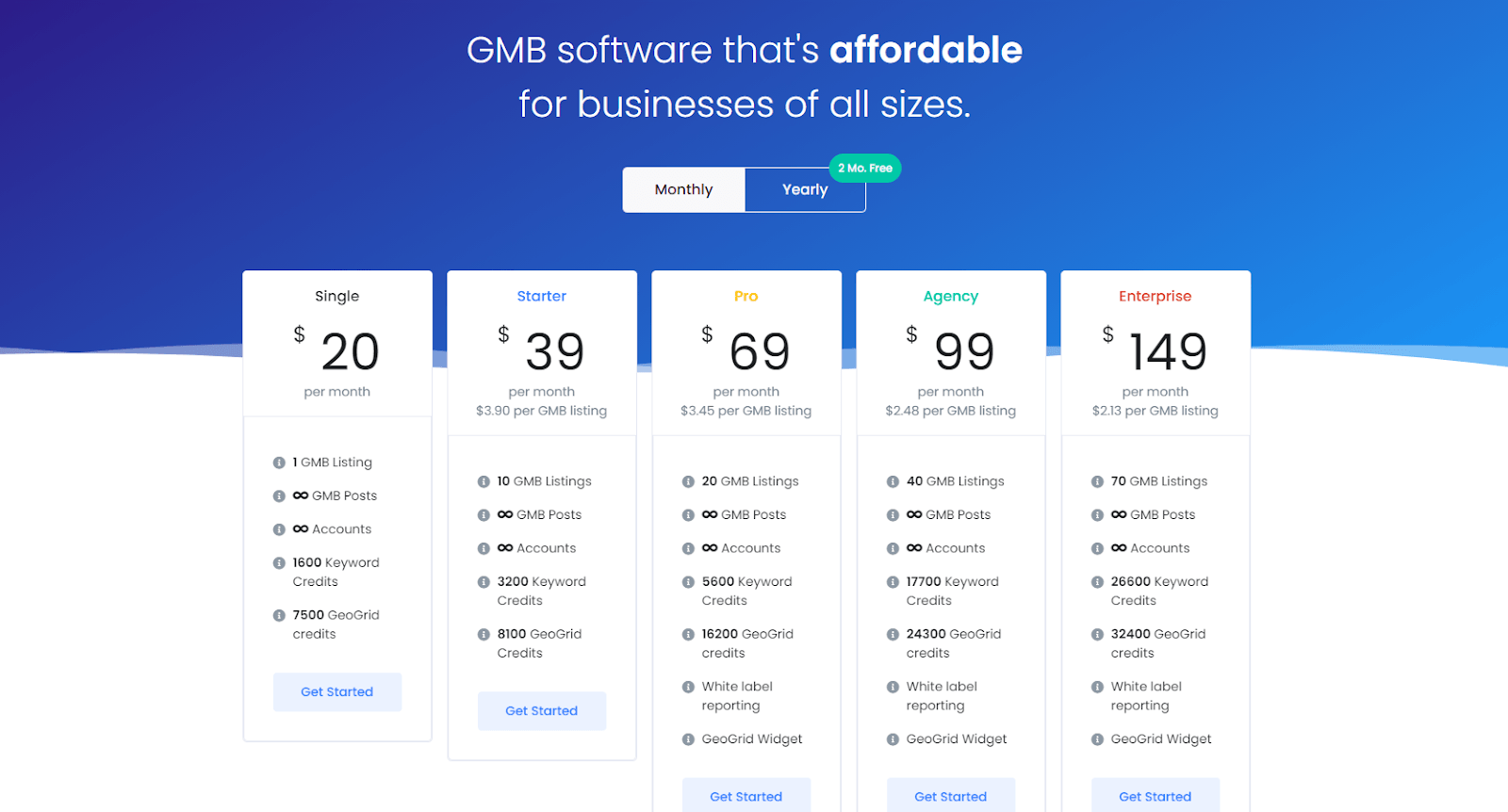 Local Viking offers 5 paid plans. The Enterprise plan is $149 a month. The Pro plan is $69 a month. If you only have one Google My Business listing, the $20 dollar plan is all you need.
Used For:
Listing Management
White label Reporting
Rank Tracking
GMB GEOGrid
Review Management
Cons:
More expensive than BrightLocal
The company is new started in 2018
The learning curve for newbies.
Get Started with Local Viking Today.
3. Whitespark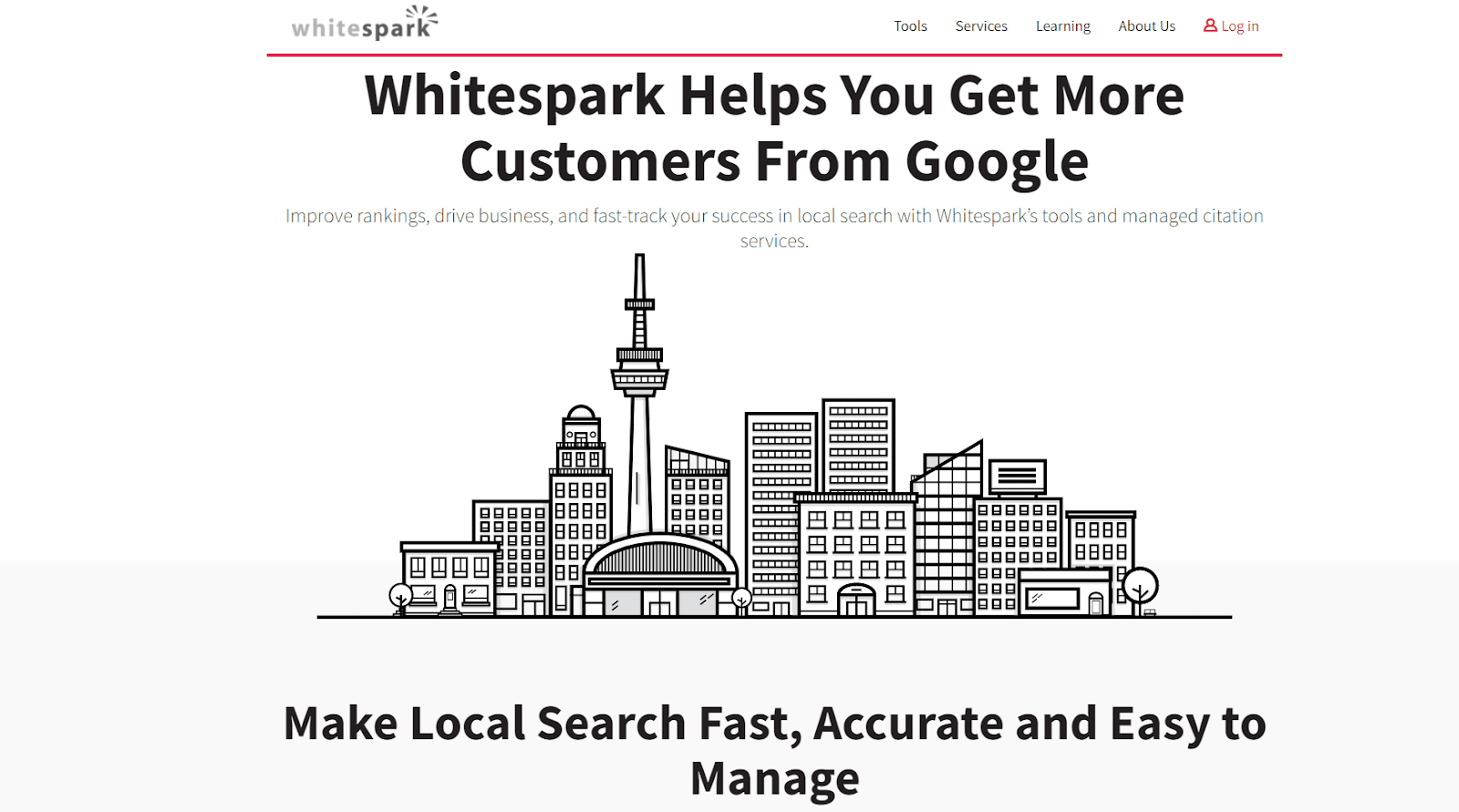 Whitespark is one of the leading dedicated local SEO tools. Their focus is multi-location businesses and agencies. Whitespark's bread and butter is their citation-building platform, rank tracking, and citation clean-up tools.
Key Features:
Local Citation Finder:

You can discover new opportunities and track all of your citations aka local business listings in one easy-to-read

dashboard.
Local Rank Tracker: You can track your Local map ranking as well as local organic results.
Reputation Builder: State-of-the-art customer feedback review tool that will help your business get new reviews on autopilot.
Text Replacement Service: Unlike Yext, Whitespark doesn't hold your local business listings hostage. Their service is a one-time

fee and you own all your listings.
Pricing: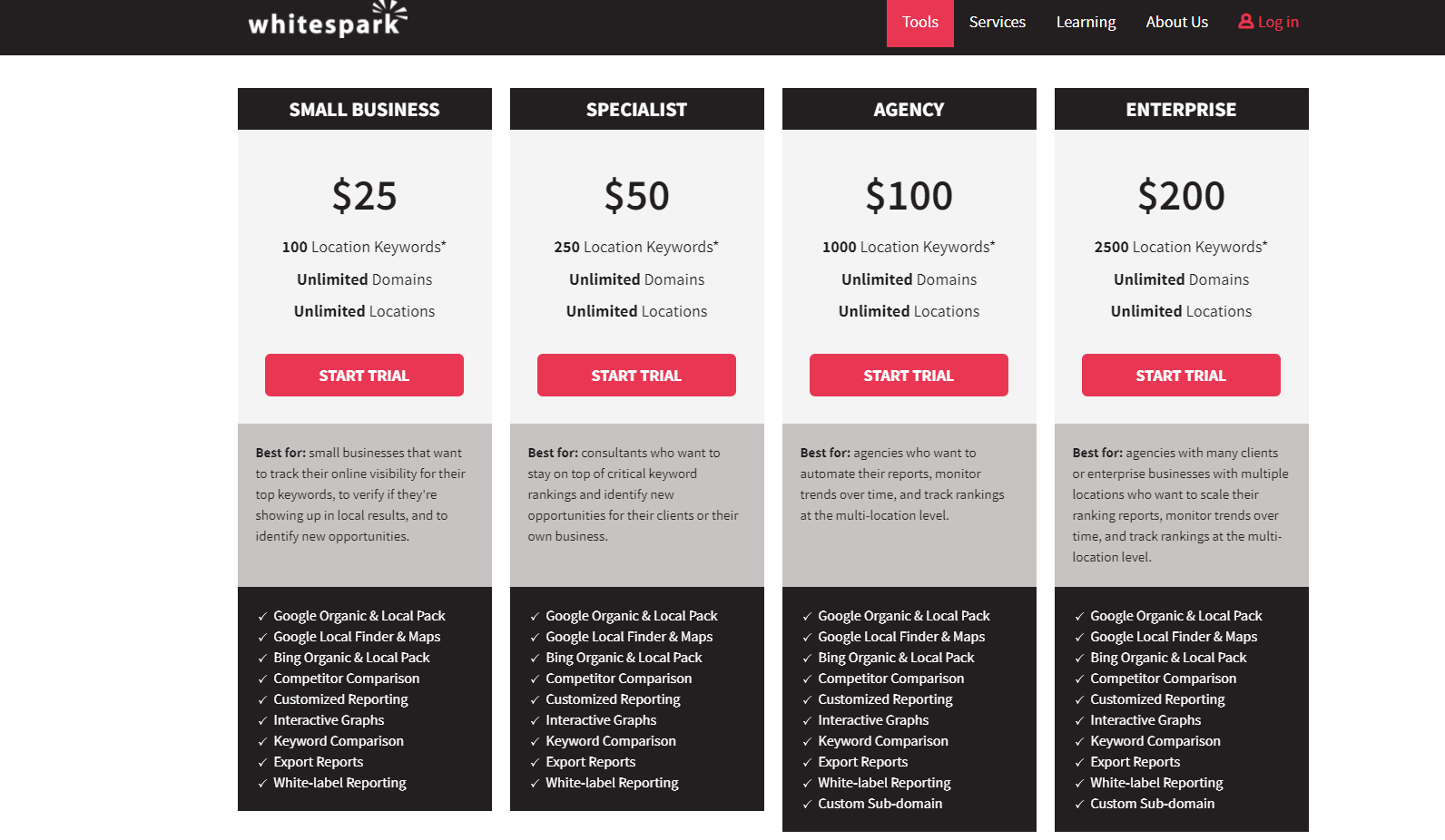 Whitespark has several services to choose from. Their Google My Business service is $497 a month. Their reputation tool starts at $79 a month. Their Yext replacement service is $349 per location. Their local rank tracker tool starts at $25 a month for unlimited domains and and unlimited locations.
Used For:
GMB Service
Listings Service
Enterprise Services
Get new reviews
Track citations
Cons:
Expensive pricing compared to other companies.
Limited countries for their local search audit.
No integration with social media platforms.
Get Started with white spark Today.
4. Local Falcon.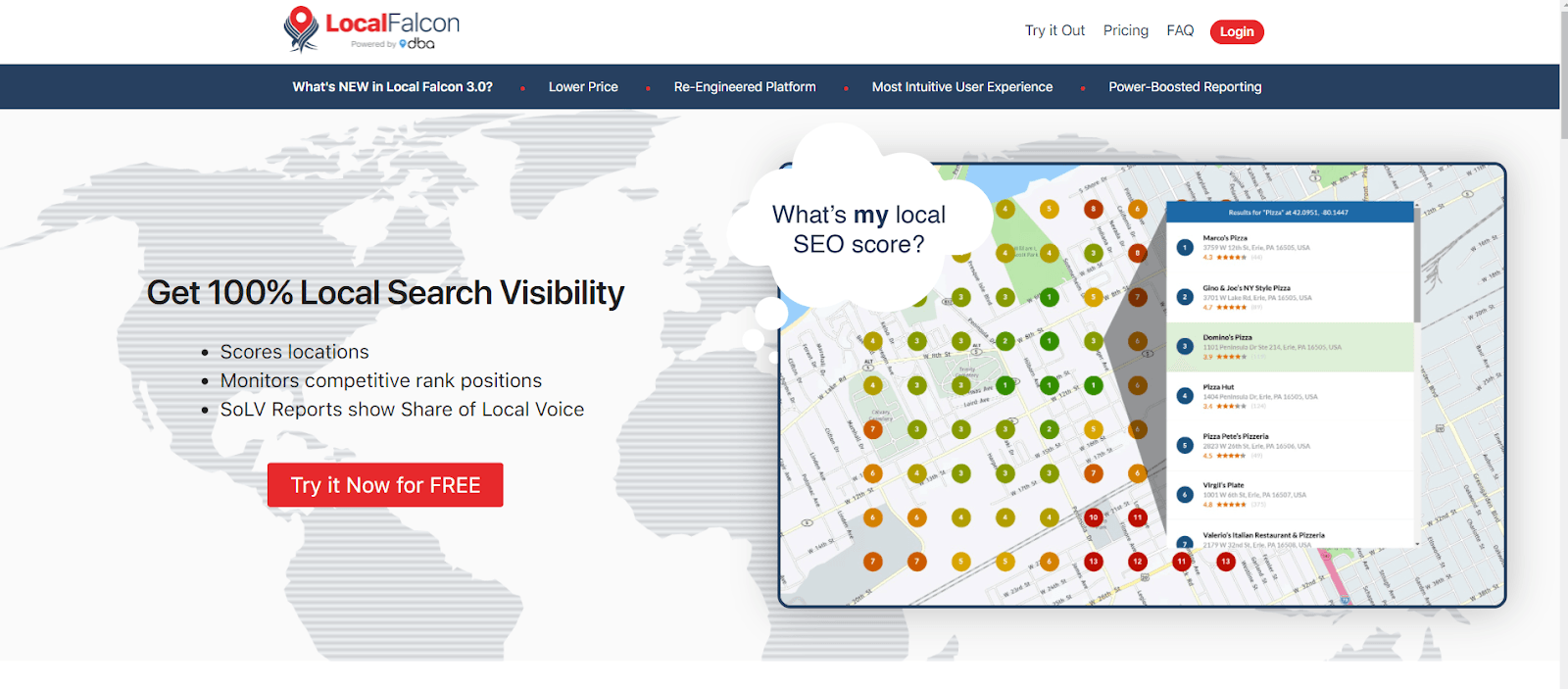 Local Falcon is another great local SEO solution for small businesses and agencies. It does a great job for tracking your local SEO campaign.
Key Features:
Listing Health: Check the accuracy of your listings and Google My Business Profile.
Reputation Review:

Understand exactly where your business's reputation is online.

Multi-Point Grid:

Understand your rankings across the city with their tool.

Competitor Reports:

Track and monitor competitors' activity with Local Falcon's detailed reports.
Pricing: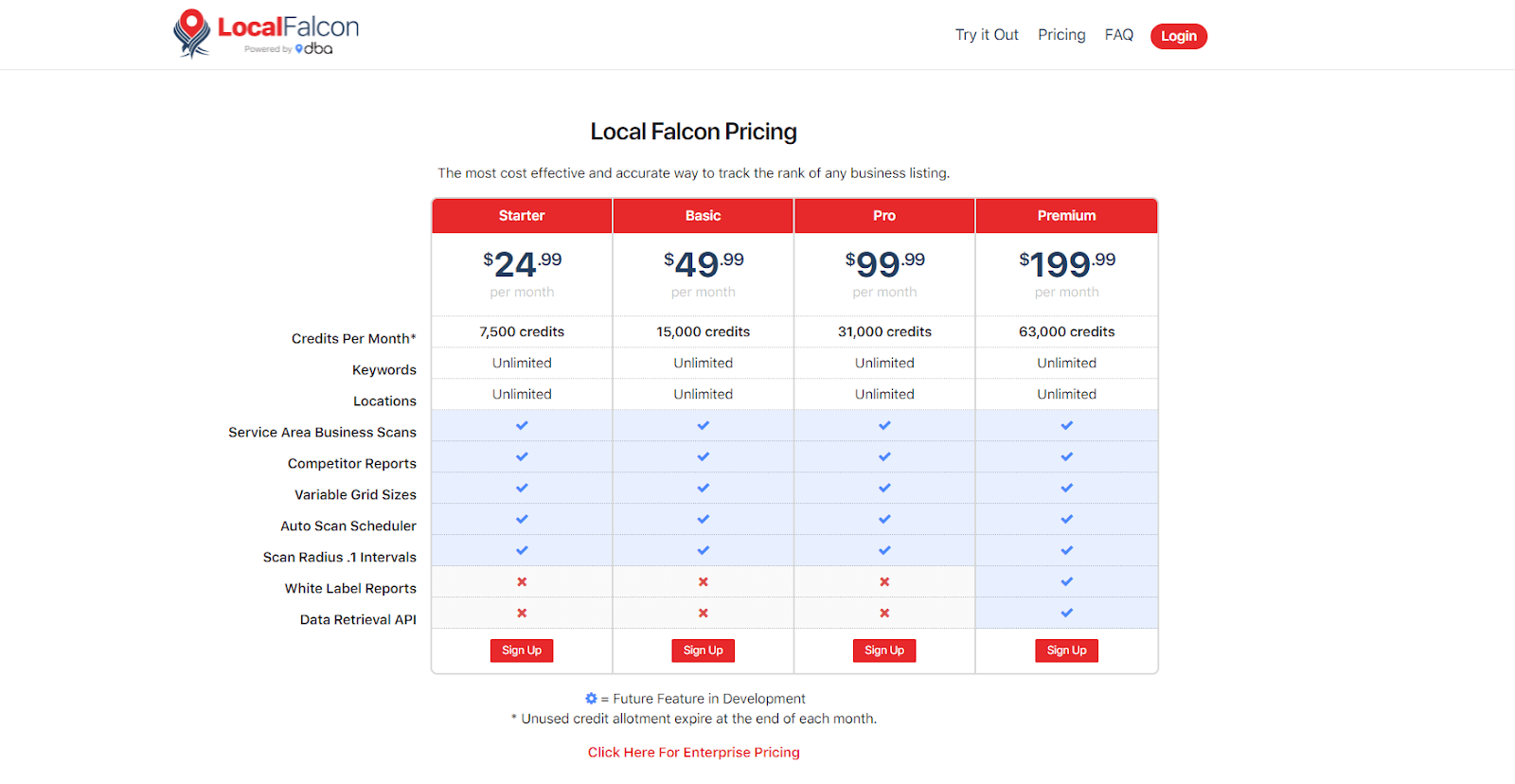 Local Falon's credit system is straightforward. It is based on a credit system. For 24.99 a month you get 7,500 credits per month. For 199.99 you get 63,000 credits per month. Each plan has unlimited locations. The credits expire at the end of the month. Unused credits do not rollover.
Used For:
Local Ranking Tracking
GMB Photo and Post Tracking
Measuring Reviews
Measuring GMB interactions
Measuring a business's overall online health
Cons:
It's only a Local SEO tracker.
Other companies offer much more features for the same price.
Discontinued their pay-as-you-go plan.
Get Started with Local Falcon Today.
5. Moz Local.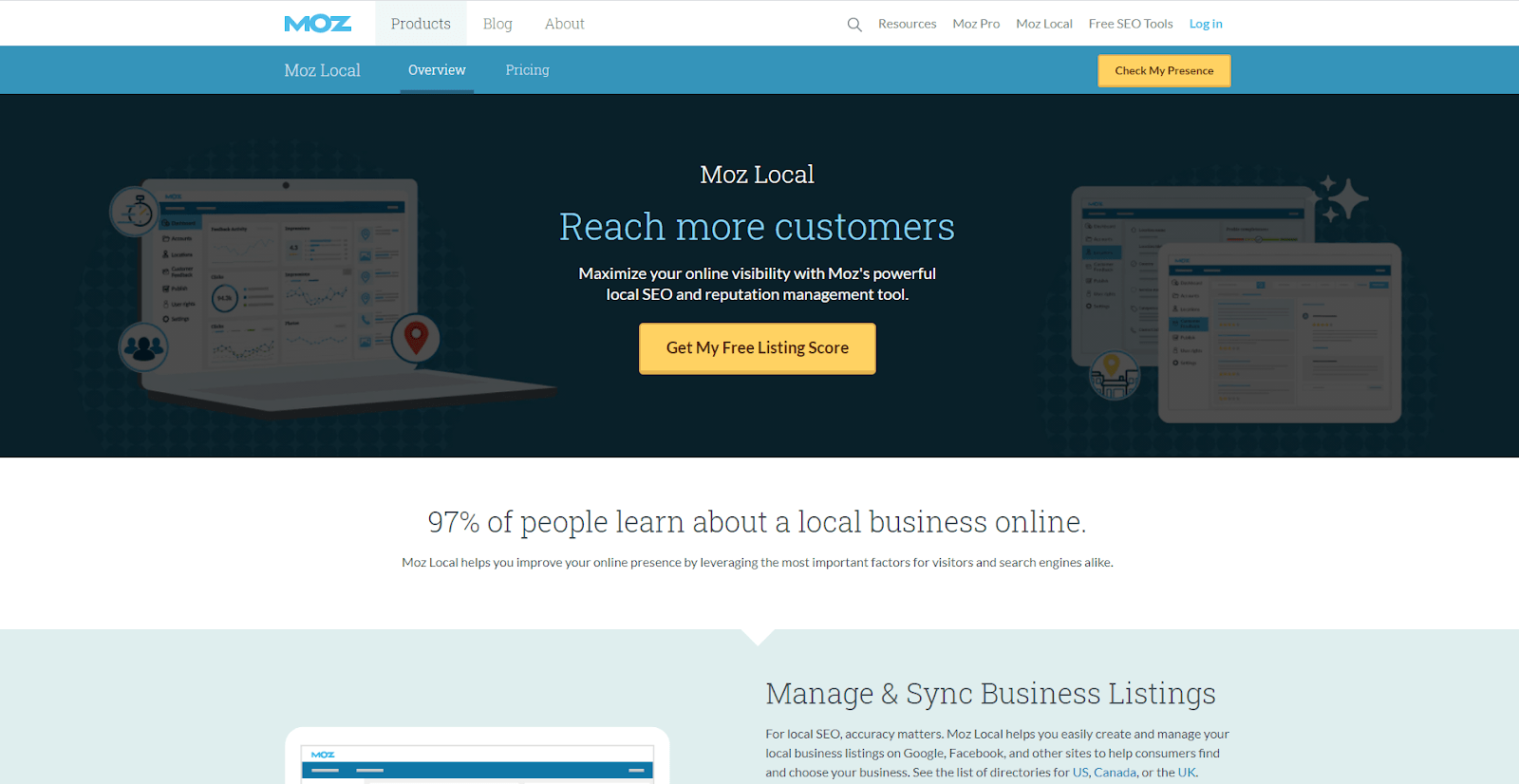 Moz Local main service helps you submit your local business listings to the top data aggregators. They also have a robust review management system tool.
Key Features:
Manage Sync Business Listings: Keep your listings updated across all online directories.
Review Management: Monitor, read and respond to reviews from multiple sites under one single dashboard.
Easy Updating: Publish your local listing updates directly to Google and Facebook with this tool.
Powerful Reporting: Track everything, including driving directions and phone searches.
PRICING: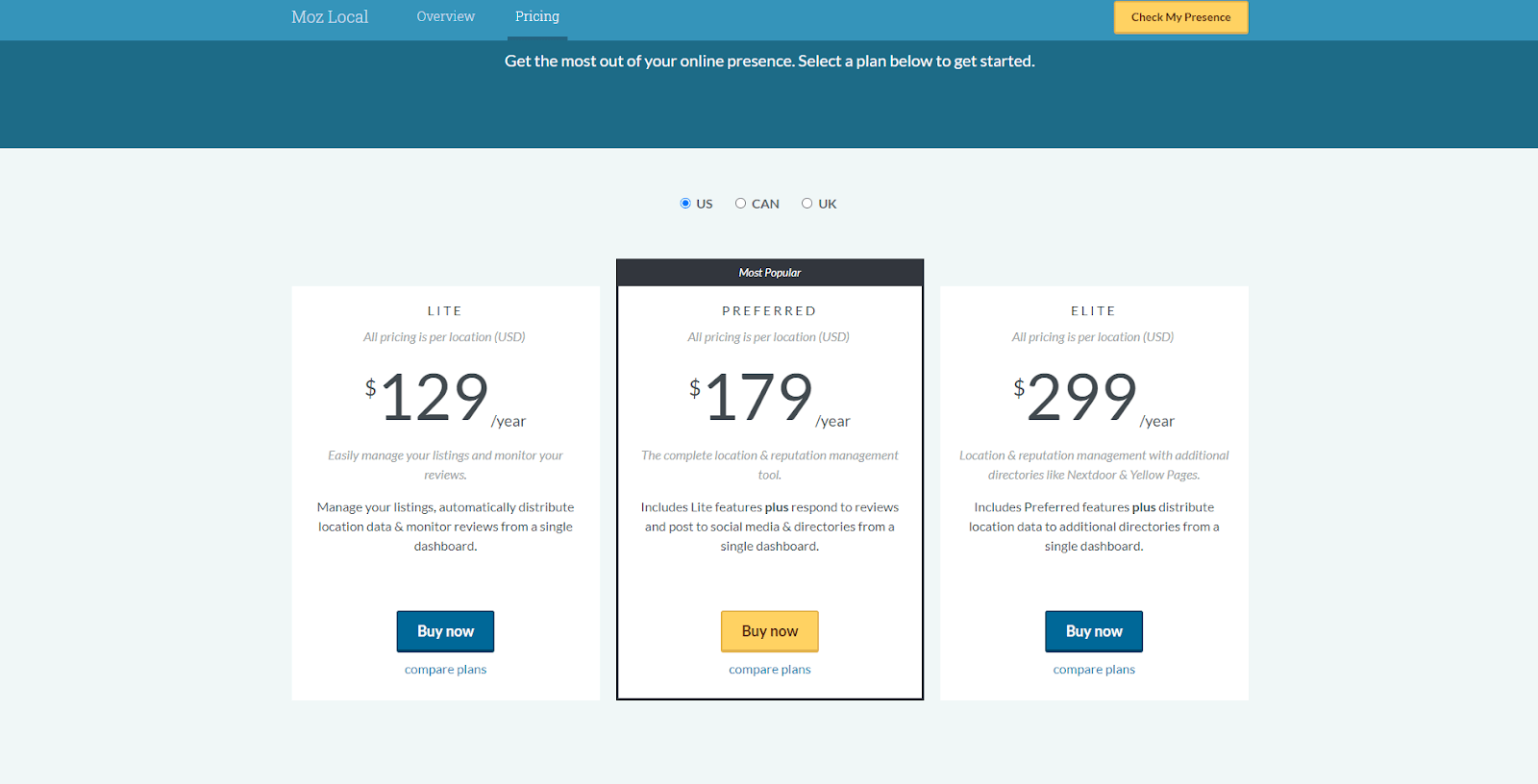 Moz Local Pricing has three tiers. The first is lite which is $129 a year. At this level, you don't get the reputation management or social posting tool. At $299 per year, you get everything. The pricing is based on per business location.
Used For:
Managing Business listings
Review Management
Updating offers
Reporting & Insights
Submitting to data aggregators
Cons:
Can't white label the reports.
More expensive than other software companies.
Tools can be confusing to learn at first.
Conclusion:
After going through these companies, Bright Local is still the best local SEO software, in my opinion, with Local Viking closing the gap with a close second. There is a reason to use all these tools and some of their features, but If I only was able to use the one I would choose Bright Local.
6. Respona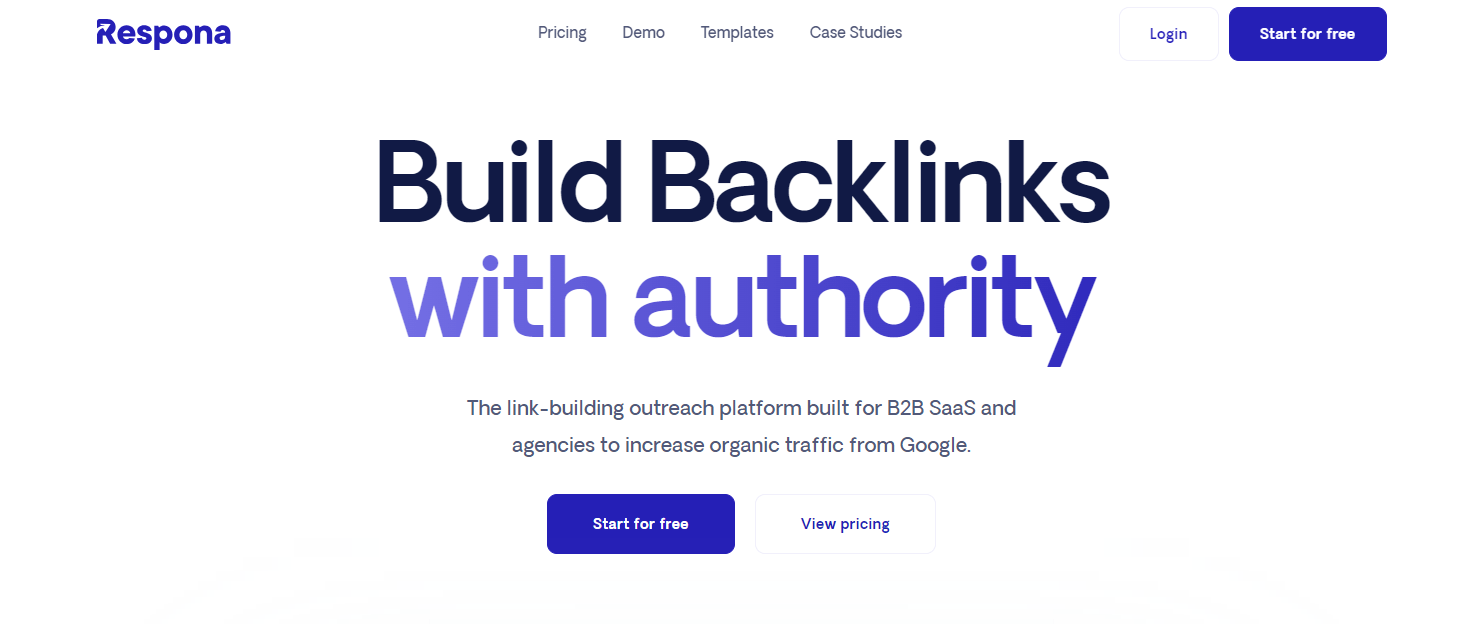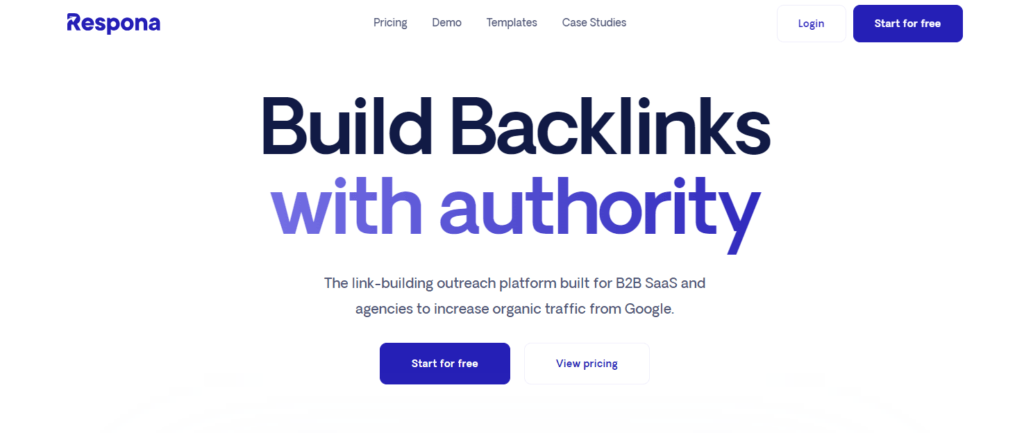 Respona seamlessly merges the practicality of SEO and the personal touch of PR in a single, streamlined software. Perfect for businesses intent on enhancing their online presence, Respona is efficient yet comprehensive, balancing automation and customization to perfection
Key Features:
Blogger Outreach: Connect with influential bloggers in your niche and build relationships to bolster your brand's online authority.
PR & Link Building: Aim for high-quality backlinks from trusted sources and manage your PR campaigns with ease.
Content Promotion: Leverage your epic content to attract organic, high-intent traffic.
Tracking and Analytics: Keep track of your performance and gain insights to make data-driven decisions.
Email Automation: Automate your email campaigns while still keeping them personalized and effective.
Pricing:
Respona provides two distinct packages – Starter and Unlimited. The Starter package is priced at $99 a month, the Advanced at $399 a month, billed annually.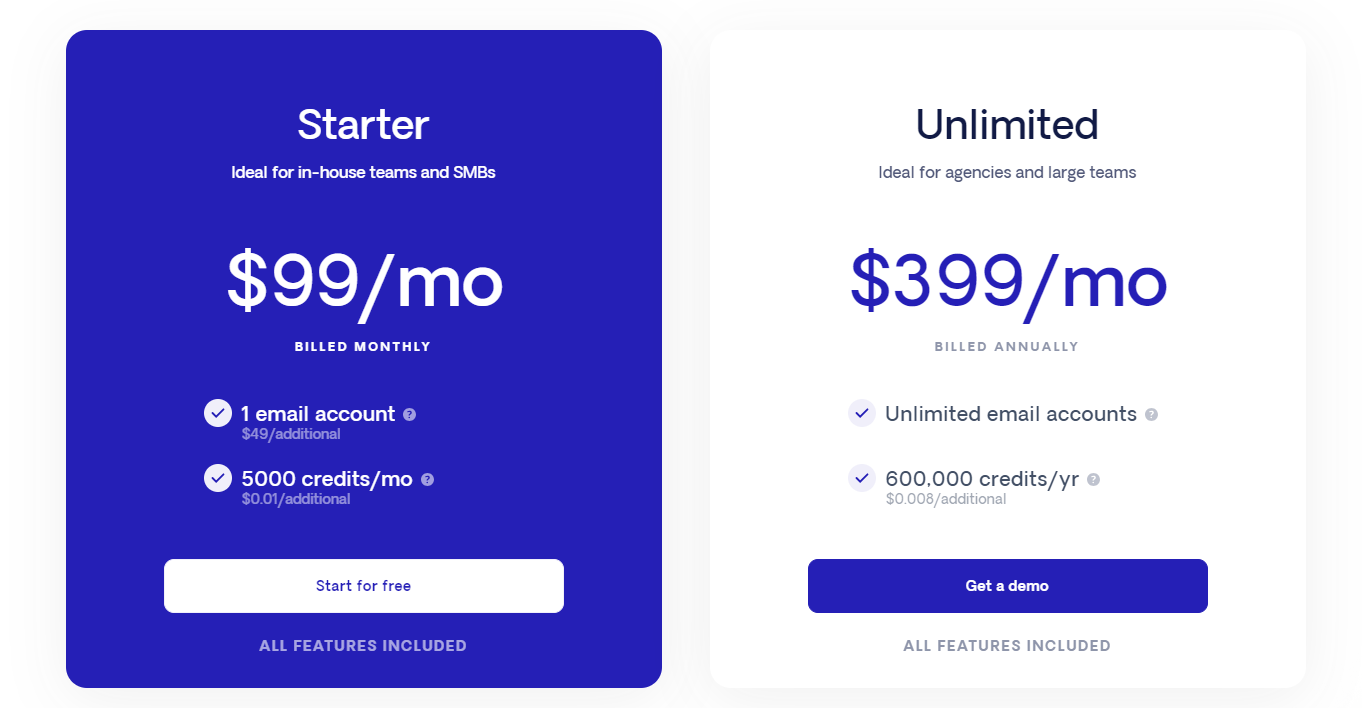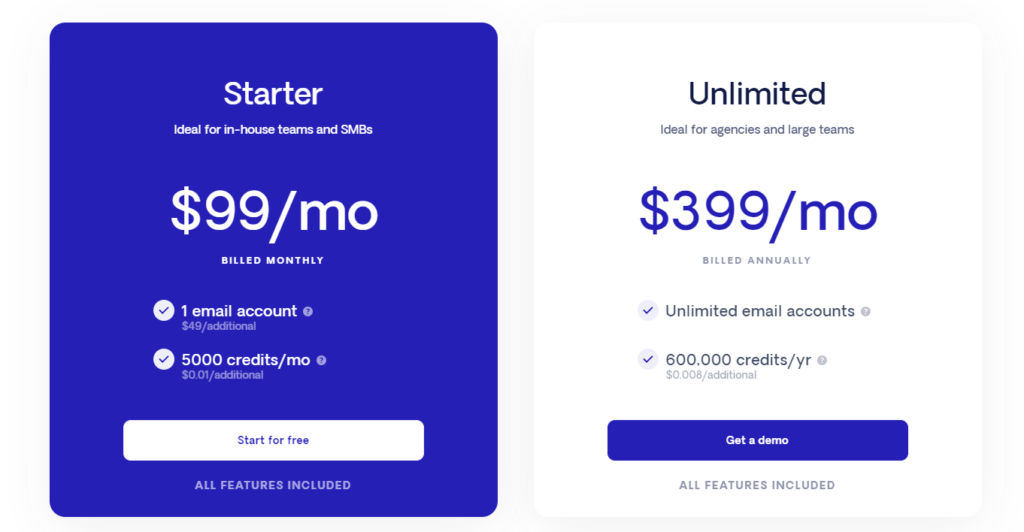 Used For:
Blogger and influencer outreach
Link building
Content promotion
Email management
Cons:
Lacks a few advanced SEO-specific features.
Might be slightly overpriced for small businesses or solo entrepreneurs.
Getting started with its interface might require some time.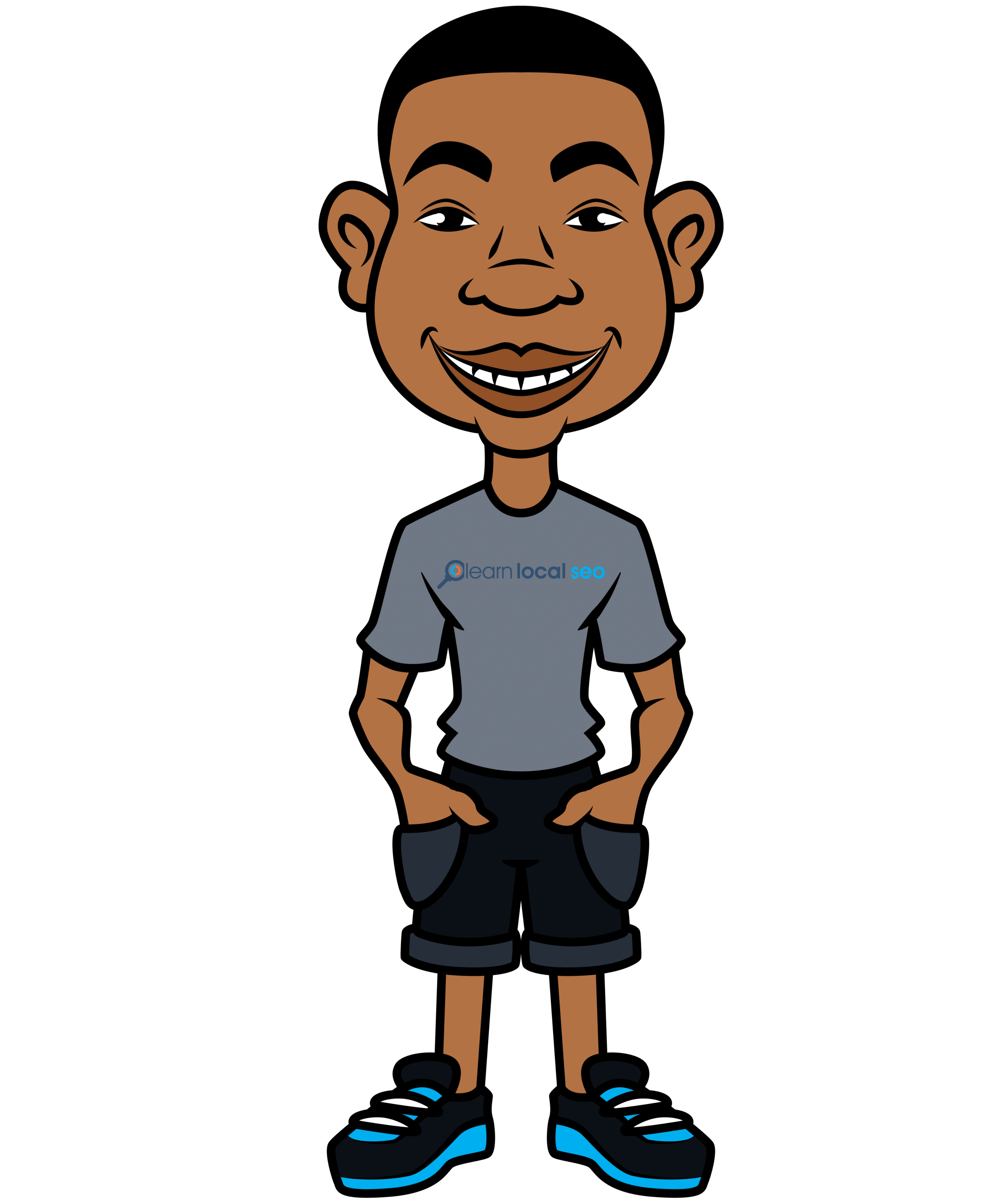 Antoine is a Local Seo expert that has personally optimized over 5,000 Google My Business listings.  With over 15 years of experience he has created the 3F Flywheel Formula for local businesses.  Antoine has worked as a Local Seo Director for one of the largest Fortune 500 digital marketing agencies. Before Antoine was in digital marketing he played professional baseball for the Chicago Cubs.  Antoine lives in southern California and writes about local seo on his blog. LearnLocalSeo.com