Every once in a while a tool comes along that changes the game and speeds up productivity. If you are an agency or freelancer helping small businesses with their local SEO I suggest you keep reading. If you are a small business owner that manages your own Google My Business now called Google Business Profile this will be vital to you as well.
GMB Everywhere is a tool that gives you vital information about your Google Business Profile from how many reviews you have to categories to how many Google Posts your company has written.
But is GMB Everywhere right for you?
Well first of all the chrome extension is free to download so you should at least give it a try. In this GMB Everything review, I will cover every aspect of the software from the Google Business Profile categories it finds to its wonderful Audit functions that will save you hours of time.
Let's Get Started.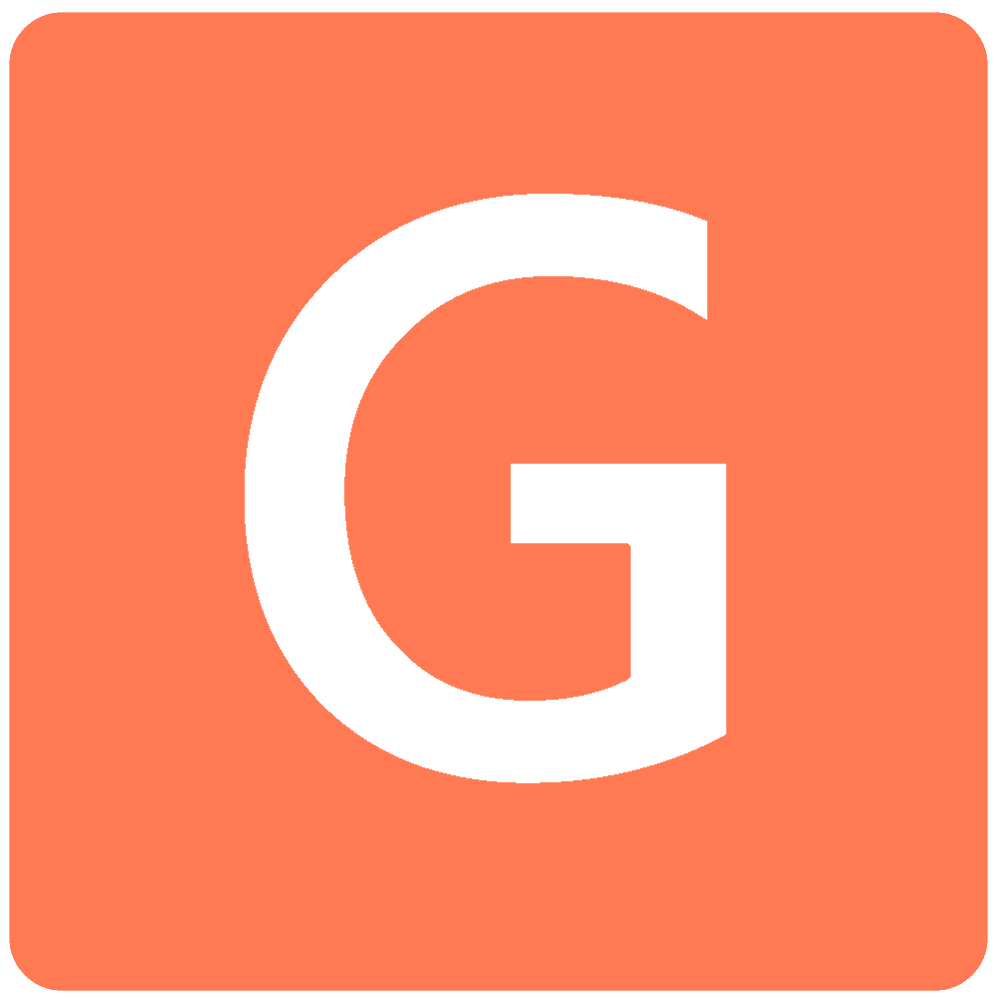 GMB Everywhere
GMB Everywhere is your one-stop shop to know everything you need to know about your GBP Profile with a click of a button.
What is GMB Everywhere?
GMB Everywhere is a chrome extension that helps you find categories, do basic audits, review audits and post audits on Google Business Profiles.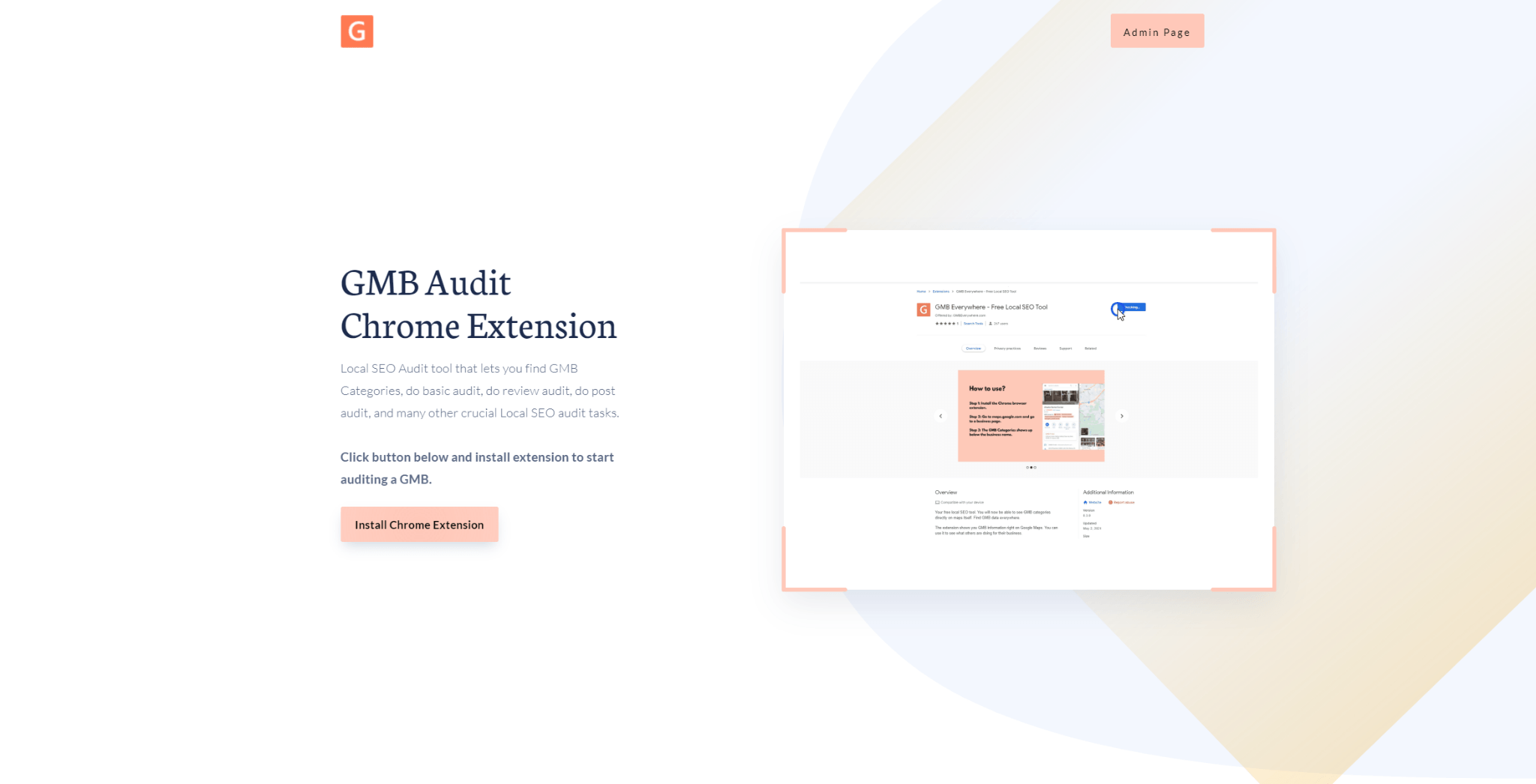 The best part is all you have to do is install this extension and vital Google Business Profile information is at your fingertips. With GMB everywhere you can get information about Google Business Profiles that would take you hours before to acquire.
GMB Everywhere Features Overview.
GMB Everywhere has 5 top features that will help you when doing research on Google Business Profiles.
Here's a list of the tools:
GMB Category Finder
Basic Audit Review
Reviews Audit
Fastest Prospecting Tool
GMB Everywhere Pricing Plans.
GMB Everywhere is free to download and use. The free plan will get your beak wet, and you will be able to use all of GMB features. When you are ready to pay for the tool you will have two options.
The two options for GMB Everywhere are: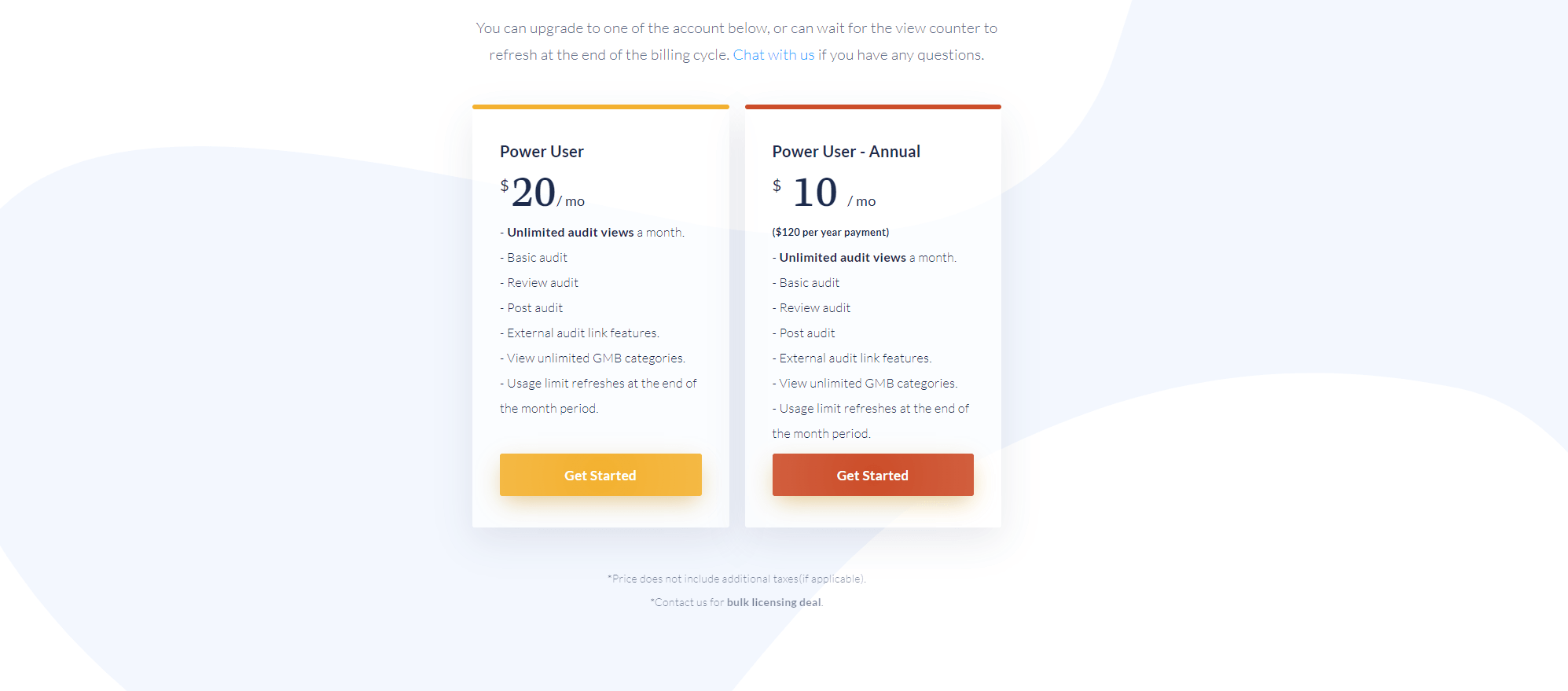 Power-user monthly 20 dollars a month
Power User Annual 120 dollars a year
The options are to pay monthly or pay yearly. If you pay yearly you are saving 120 dollars a year. We suggest if you can afford the annual plan to get it.
Best Features of GMB Everywhere
Ok now we are going to get into why GMB Everywhere is the best local SEO chrome extension out there.
Here are the 5 features why you should download this Google Chrome Extension today:
The GMB category is a huge time saver. Once you download the chrome extension GMB Everywhere goes to work.
Anytime you are looking up businesses in Google Maps GMB Everywhere will show each business category in their Google Business Profile.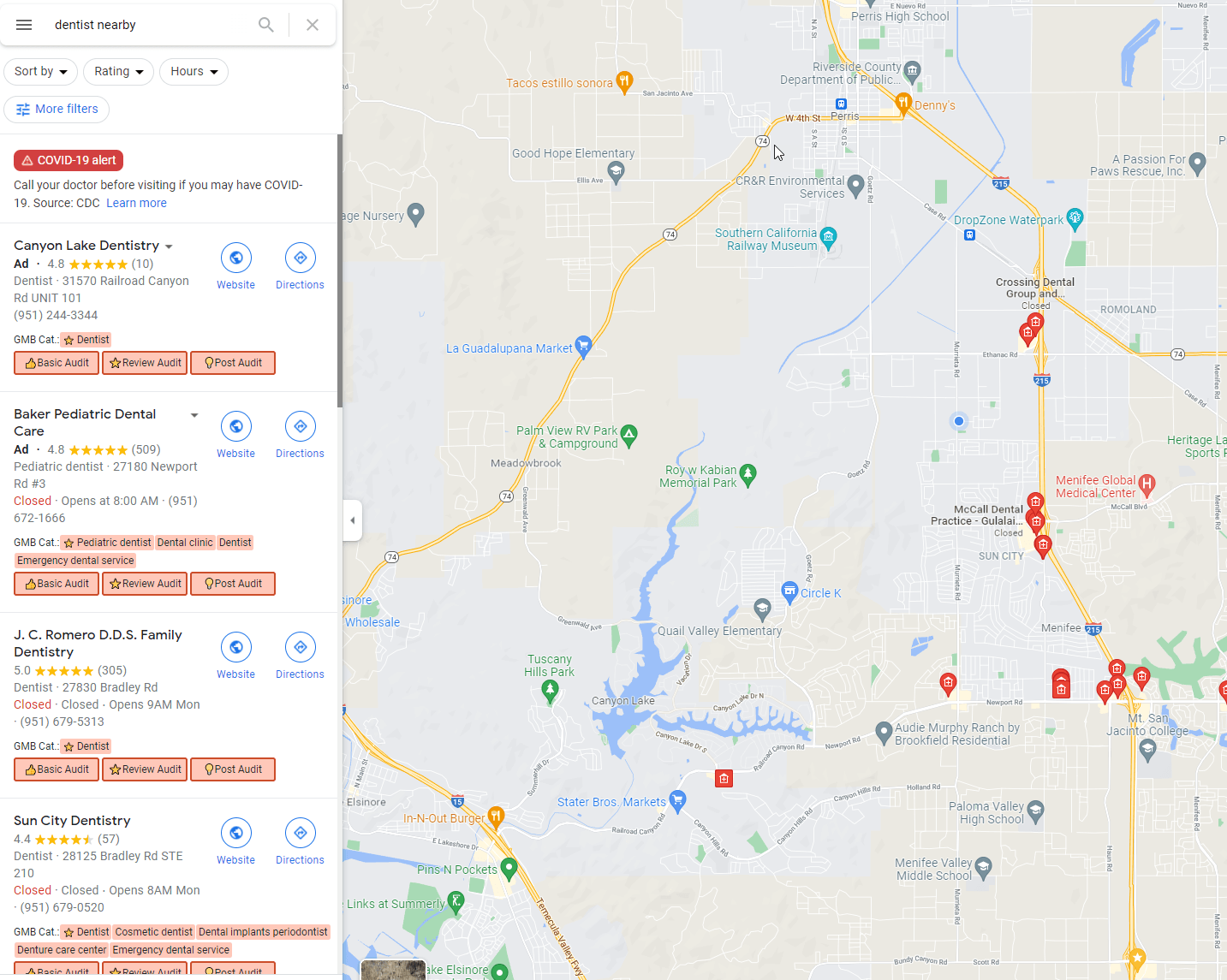 As you can see in the picture GMB everywhere displays all the categories of each business. Other plugins you have to click on the chrome extension to get this information.
With GMB Everywhere it just appears anytime you do a search.
When you click on a business listing GMB Everywhere will show all their categories and star the category they are using as their main category.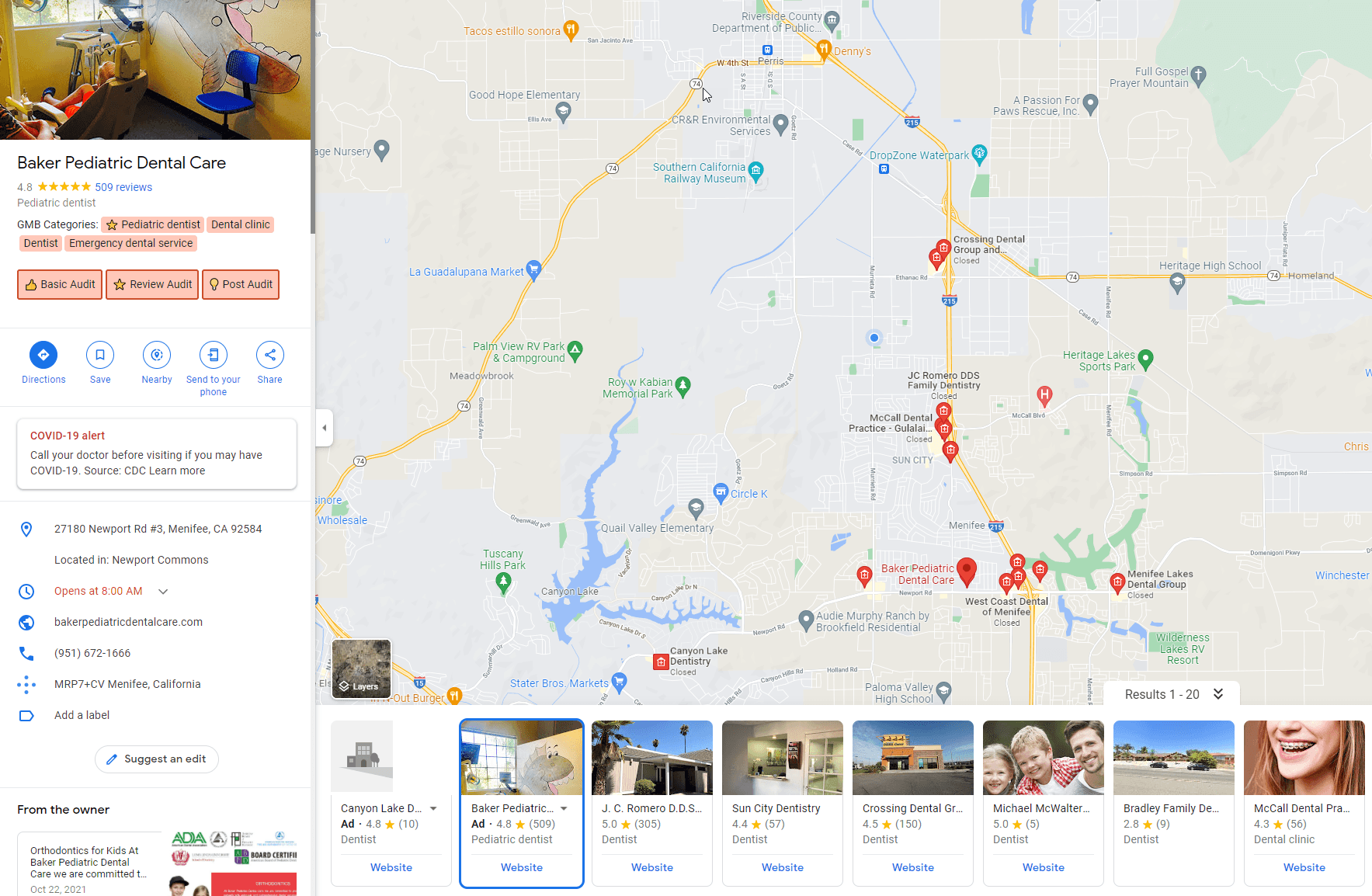 If you are doing research and trying to figure what categories to use for your business this is crucial and GMB Everywhere shows you all the categories every business is using.
Business categories are an important ranking factor and if your business is not using all the categories that are available to them your business might now show up.
This also will give you an advantage on other businesses. If you know about categories that other businesses don't you will have the advantage.
I really hate that GMB Everywhere named it basic audit review because it is so far from that. Their review tool pulls in all the vital information you need when running an audit or setting up a Google Business Profile.
I have 5 page SOP's on how to do things that GMB Everywhere does with one click.
The Basic Audit Review pulls in 14 items about a business on their report. The 14 items are:
Current Address
Business Status
Place ID
Review List Display Link
GMB Post URL
Website URL
Latitude/Longitude of business
Knowledge Panel ID
Review Request Link
Ask Questions Request URL
Phone
Categories
Knowledge Panel Link
Questions and Answers URl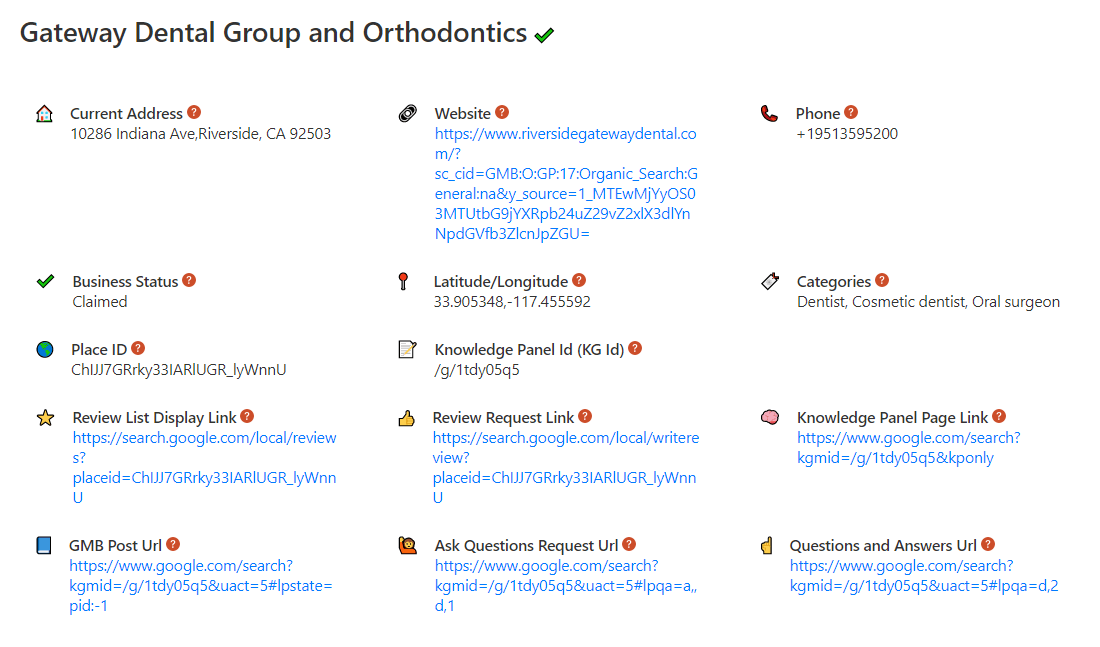 Like I said before this information is not basic. I have 7 different SOP's that I created to train people how to get this information from a Google Business Profile.
This would take anyone from 30 minutes to an hour to get this information. With GMB Everywhere it is literally done in one click and it is in a beautiful formatted PDF as well.
The Basic Audit Review also gives you links to where you can take your audit even further. The 6 places they recommend are:
Google Pagespeed Score
Website Schema Analyzer
Domain Name Lookup
Website Audit
Technology Used on Website
Website History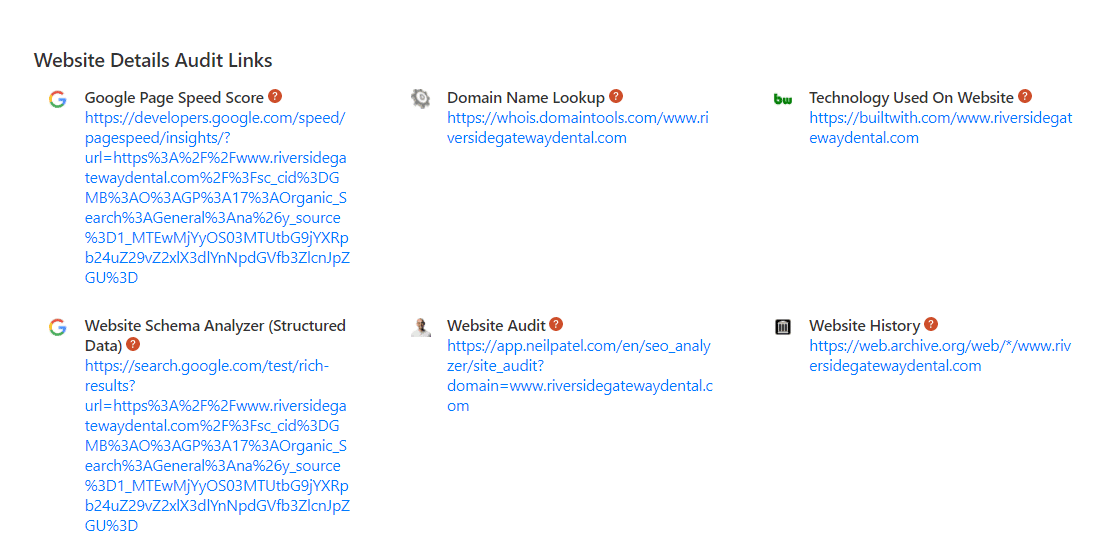 When you click those links in the picture the business you were researching will appear on the site. Again this will save you time and you can do further research on the business you were researching.
The last thing GMB Everything basic audit will do for you is recommended 8 other tools that can help you audit your business. I love this so much.
I love that GMB Everything is not trying to be the one tool to solve it all. Most of the tools they recommend are Google but there are a couple of other sites like pleper.com and neilpatel.com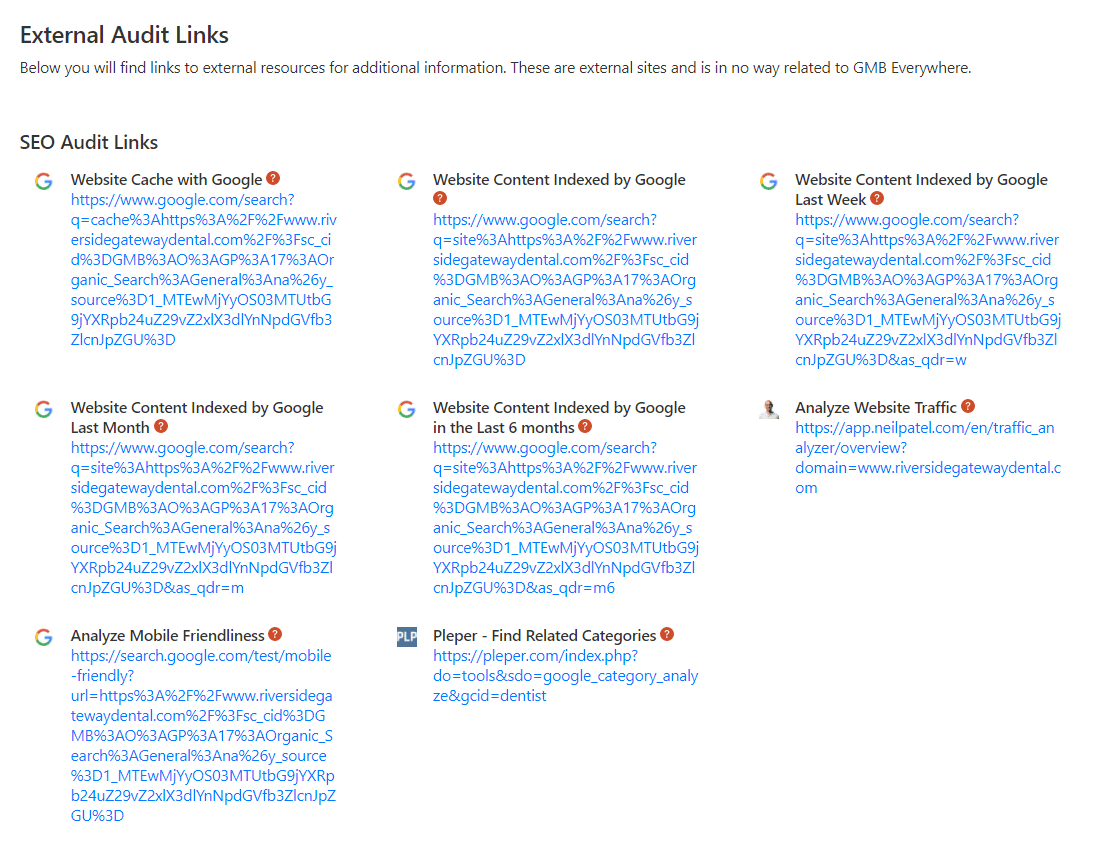 The review audit is another tool you will have in your arsenal if you download this chrome extension. All you have to do is look up a business click on the review audit and GMB Everywhere will do its magic and download all the reviews and give you a nice report.
The Review Audit will give you 6 things:
Total number of reviews
Google Rating
Average of Google Review rating
Number of reviews with photos
Number of reviews provided by local guides
The average number of reviews given by people who reviewed this business
I don't know any tool that gives out this type of review information. On top of that it gives you a beautiful report you can show to your client or prospect. I hope you are seeing the power of this plugin.
This tool also will give you a Google Post Audit. This is amazing. The tool will pull all of the businesses Google Posts and spit out a report in less than 2 clicks. This chrome extension is unbelievable.
The report gives you 7 things:
Total number of posts analyzed
The average number of words per post
Total number of posts with videos
Post frequency
Total number of posts with links
Average characters per post
Total number of posts with images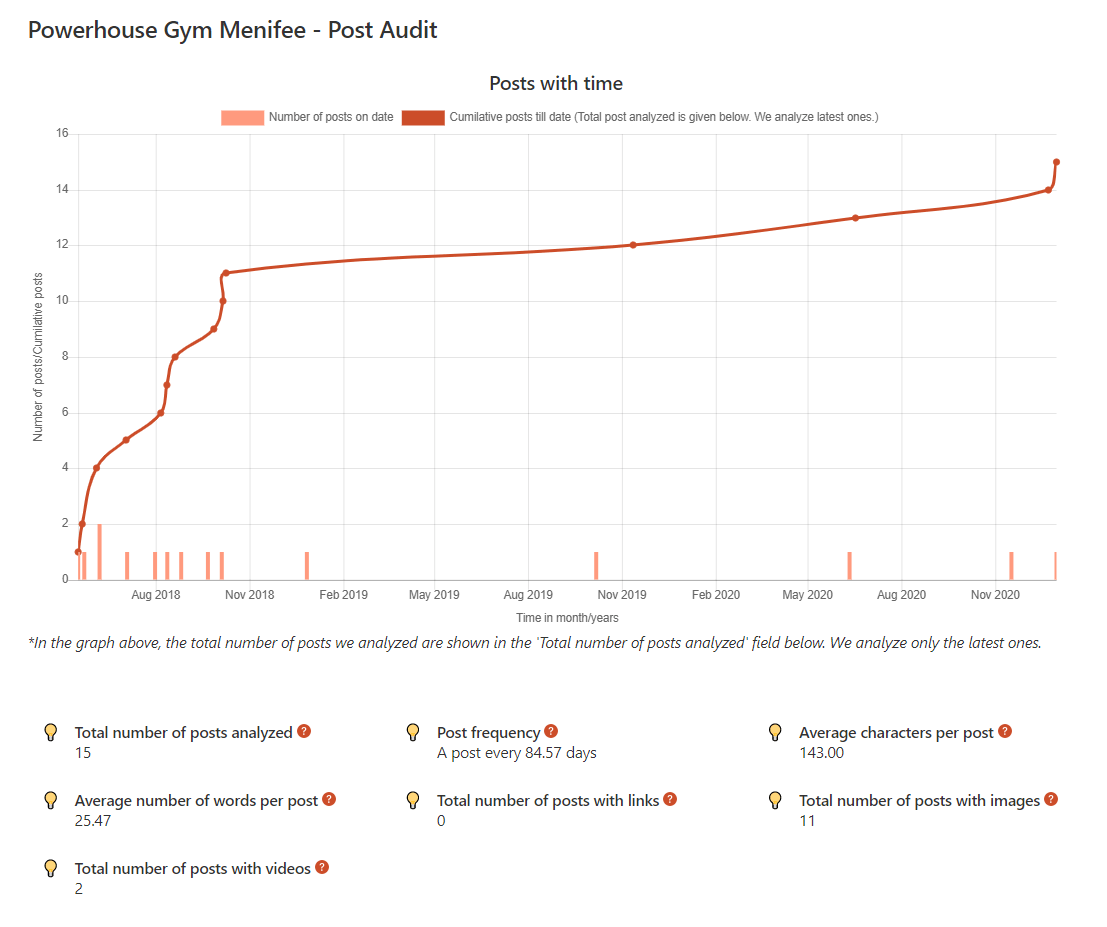 This information is so powerful. I don't know any tool that pulls this type of data for Google Posts. I am blown away.
GMB Everywhere is a great prospecting tool. If you are trying to get businesses to sign up for your services I would definitely run an audit with this tool.
It will take you under a minute to do so and you can have vital information on the business that you can show. How powerful is it that you can show a business how many reviews they have had or Google Posts in an instance?
I know I will be using this going forward when I am talking to businesses. Other tools take too long. You could literally be on the phone with someone and look up their business real quick and find out a bunch of information.
That will definitely give you an edge over your competitors especially if you are an agency using Go High Level as well.
GMB Everywhere Cons
Can't white label the reports yet
Could use a couple more free reports in the free version
GMB Everywhere Review Summary
Hopefully, after reading this article you can see how powerful this Google Chrome extension really is.
I highly recommend you give GMB Everywhere a try. You will see how much time it saves you and your team.
Get started with GMB Everywhere today.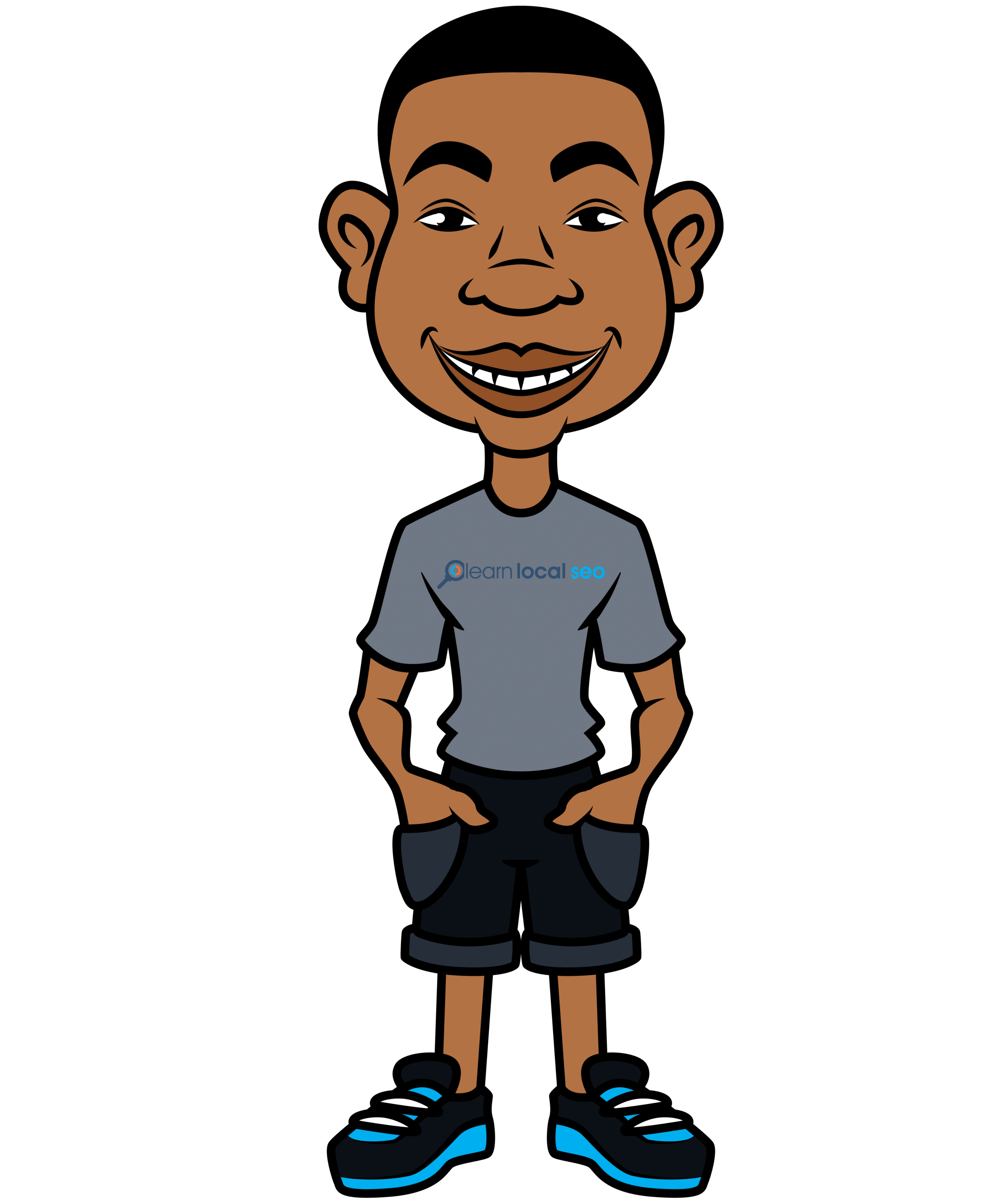 Antoine is a Local Seo expert that has personally optimized over 5,000 Google My Business listings.  With over 15 years of experience he has created the 3F Flywheel Formula for local businesses.  Antoine has worked as a Local Seo Director for one of the largest Fortune 500 digital marketing agencies. Before Antoine was in digital marketing he played professional baseball for the Chicago Cubs.  Antoine lives in southern California and writes about local seo on his blog. LearnLocalSeo.com